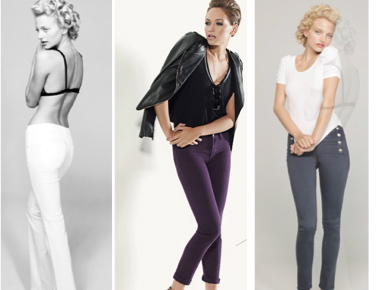 Are your favorite piair of indigo skinnies looking a little worse for wear? This fall, revitalize your denim supply and try out a cool new wash, bright color or fabulous new cut. We consulted two denim experts, J.Brand founder Jeff Rudes and Seun Lim of James Jeans, to hear what they recommend trying first.
What quirky new denim trend should people consider trying this fall?
JR: Our new hit, the jodhpur -- our modern take on a riding pant -- fits and feels amazing. Prints, prints, prints, and beautiful rich jewel tone colors are all must-haves for an updated fall wardrobe.

SL: Skinny silhouettes have been the go-to for quite a few seasons now but this season you will start seeing a plethora of new twists and turns. The micro flare, which is skinny all the way down the leg and breaks at the calf, the rider-detailed legging which is very equestrian, and of course color.

What's your top denim silhouette?
JR: Our J Brand DNA is slim, skinny and sexy, so definitely our skinny fits -- the 811 mid-rise skinny, 912 low rise pencil leg, and the 901 super skinny legging. All with the perfect ankle length to wear with heels, booties or flats.

SL: Our couture collection is our new silhouette obsession because it transforms your own silhouette into the best it can be. This collection is all about perfecting your body – giving a lifted bottom, slimmed thighs, and an overall perfect form no matter your existing shape or size. [We're offering the line] in three bodies skinny, straight, and bootcut.
What are the season's new washes and colors?
JR: For color, rich jewel tones and a wide range of the perfect shades of neutrals. For indigo, we have darker, deeper shades of indigo -- almost blackened out -- in washes called Nightwish and Ignite. We also have sleek, coated washes in color and dark indigo.

SL: This fall, you will see a strong focus on colors. All deep colors including amethysts, sapphires, rusts, and ambers in fabrics ranging from buttery soft brushed twills, slimming baby corduroys, and luscious velvets.