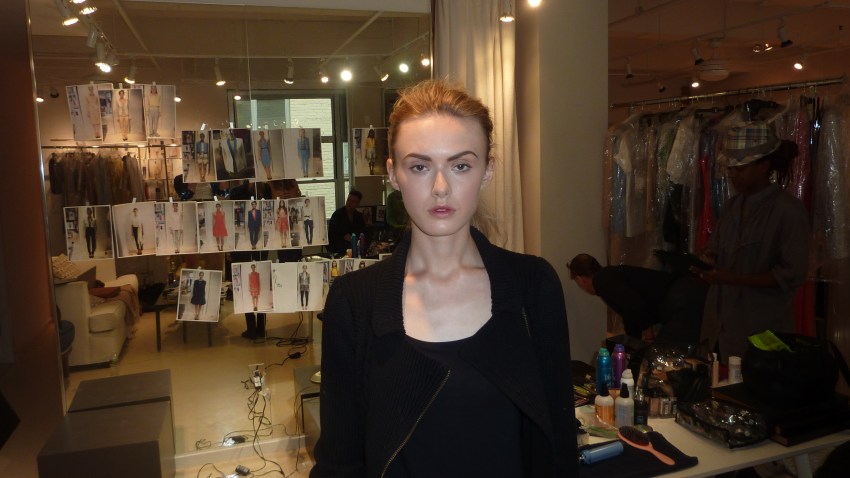 With just a matter of days until his Spring 2012 presentation, designer Wes Gordon held a hair and makeup test at his downtown studio yesterday in preparation for the big showing. Travis Speck, one of Bumble & Bumble's editorial stylists, and Maybelline's Charlotte Willer arrived with suitcases full of products and gear to conceptualize Gordon's beauty look on a test model. Considering the time frame -- Gordon shows on Thursday -- there isn't much room for error, or back to the drawing board decision-making on this go around.
This season marks Gordon's fourth collection, and his biggest fashion week foray to date with twenty-five looks in total. The collection, which includes his first stab at knitwear, luxe evening gowns and perfectly-cut modern pantsuits calls for hair and makeup that is both "pulled together, yet casuall," the designer told us.
Gordon had looked through a Tom Ford coffee table book and beauty images on variou
s blogs including
Into the Gloss
for hair and makeup inspiration, settling on a ponytail and barely-there makeup in his mind. A textured ponytail tied in the middle that Speck tried on the model first was deemed too sporty.
"We need it a little more Charlotte Rampling, a little less preppy," Gordon said, wanting a look that referenced cool Parisiennes (besides Rampling, another favorite reference point of Gordon's is Catherine Deneuve). Speck then tried a romantic pulled back look and leaving the hair down a la Carine Roitfeld. Both were quickly vetoed. The pair eventually decided on a low, slightly tossled, minimalistic ponytail.
Gordon's makeup direction for the test was a strong brow, lip stain and glossy lids. "I want something dewy and fresh looking" Gordon told Willer. Willer debated on several shades of red lip stain and whether to use blush and mascara.
Willer got it right on the first go around and with that, Gordon checked off the hair and makeup test from his to-do list, moving on to the next item. One of his employees asked if he wanted flowers for the front table at his show. "How much are they going to cost?" he asked. Button holes on a jacket needed to be properly sized. And there were store sell-throughs to look over on top of everything. A designer's fashion week checklist is never done.