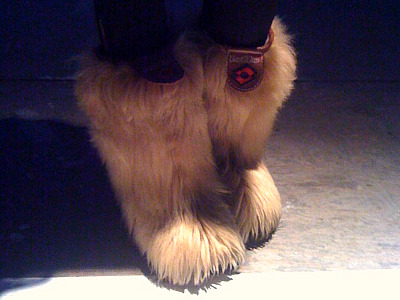 While street style snappers are looking at editors' clothing, we're looking at their shoes. Some Fashion Week attendants braved the slush in high heels, while others found inventive post-blizzard options.
Jenni Avins chose these wild-looking furry snowboots for the first day of Fashion Week, and frankly, we found them to be much more exciting (or, at least, more playful) than the myriad Hunter Boots and lace-up Sorels we also spied. As in: The weather's a mess -- at least we can have a sense of humor about it. When we saw ladies in heels outside, we feared for their safety.
Avins herself was so pleased with her boots, she recommended we check out her blog, where she raves about these vintage Lotto boots, which she bought at Amarcord in Williamsburg.