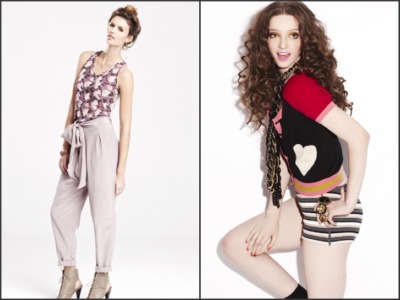 Forever 21 is launching its first full-fledged series designer collaborations with two LA-based talents, Petro Zillia and Rory Beca. Zillia's designs for the chain, as it happens, are already available in stores, while Beca's will debut on March 4.
Linda Chang, daughter of Forever 21 founders Don and Jin Chang, shed some light on their first picks with WWD, citing the two designers' fresh, accessible philosophies but wildly different aesthetics.
Petro Zillia is best known for a bright-and-sunny, rainbow spectrum, while Rory Beca dresses the more bohemian-leaning, laid-back girl in vintage-inspired dresses and separates. The partnership comes at a presumably crucial time for Petro Zillia, whose LA boutique shuttered on the eve of the Forever 21 debut.
The designer-focused series are in keeping with what the brand's contemporaries like H&M and Target have been doing for some time, but the move is a particularly interesting one for a chain like Forever 21, which has created a rather infamous name for itself by being accused several times of copyright infringement by various designers, from Trovata to Diane von Furstenberg.
"This is sort of new for us," Chang told WWD, dismissing the idea that profit was the main goal of the new venture. "We want to be able to keep fresh new designs in our stores so that our customers want more and different things. We always like to be on top of trends, and collaborations are a trend in the industry."