If Richard Chai has anything to say about it, floor-sweeping skirts and dramatic lengths aren't going anywhere next season. With a collection composed almost exclusively of long dresses and separates layered beneath thick woolly coats and nubby sweaters, the boho-urbanite woman that Chai seems to gravitate to really found her stride this season.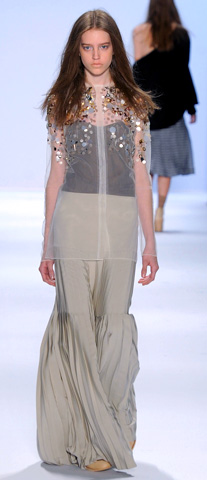 Natural, wearable, but utterly distinctive, the collection felt like something of a maturation for Chai, who in seasons past has experimented with high-minded concepts that didn't always read on the runway, or were perhaps unapproachable for Chai's typical consumer. This season, however, Chai found inspiration in a seemingly straightforward idea: individuality.
Somehow, in exploring what that meant for his "girl," Chai seems to have figured out what it means for himself as a designer, and for the brand generally. After watching this collection, there's no doubt that Chai's real strengths as a designer lie in his preternatural ability to conjure up perfect oversized proportions, luscious long length, and bring it all together with surprising approaches to layering.