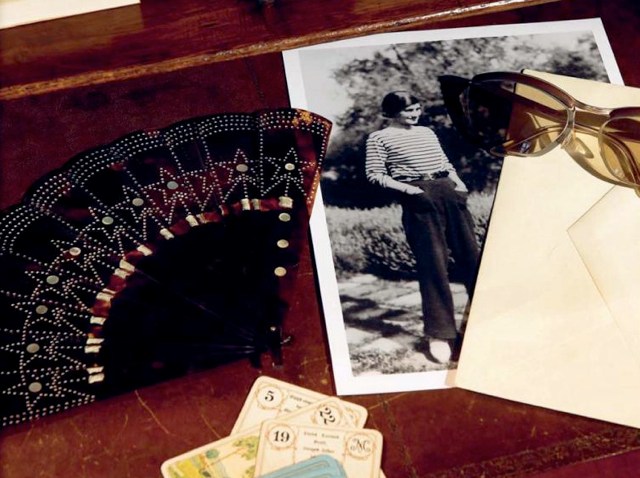 While the biggest buzz around books and Coco Chanel of late has been the scandalous new biography, "Sleeping with the Enemy: Coco Chanel's Secret War" (which accuses the designer of working with the Nazis), FIT last night hosted a discussion with the author of a very different book on the fashion icon.
English author Justin Picardie's latest work, Coco Chanel: The Legend and the Life, takes a decidedly more optimistic (and, perhaps, more thoughtfully-researched) approach to Chanel's early days as an illegitimate orphan, uncovering new details about her life as a celebrity style icon until her death in 1971.
Picardie, whose book was first published in the UK last fall, but is just now being released in U.S., was clad in a black Chanel tweed jacket and classic Chanel flats for her American tour, and opened up the discussion with a few words about Coco's (generally undiscussed) ardor for the United States, and particularly New York City.
"She came here for the first time in 1931 and was really a big fan," she explained. "America, I think, represented something special for Chanel. She often told people her father, who had abandoned her, actually went to America."
Picardie went on to explain how the editorial efforts of American fashion publications like Vogue and Harper's Bazaar were largely responsible for the success of Chanel's first post-war collections, which were wildly unpopular in the Parisian press.
In researching the book, Picardie was granted unprecedented access to places that were crucial to shaping Chanel's personality and, eventually, her fashion house -- in particular, the forbidding medieval abbey, situated on a remote Parisian hilltop, where she grew up. "There's a panel of stained glass, and when the light comes in at a certain angle, it creates, unmistakably, the image of the interlocking C's," said Picardie.
These revelations as well as new anecdotes from Chanel confidantes like Claude Delay are promised in the pages of her book. Perhaps most enchanting of all are the pictures -- personal vacation photos as well as gorgeous, glossy archive images that make this tome a perfect coffee-table addition.