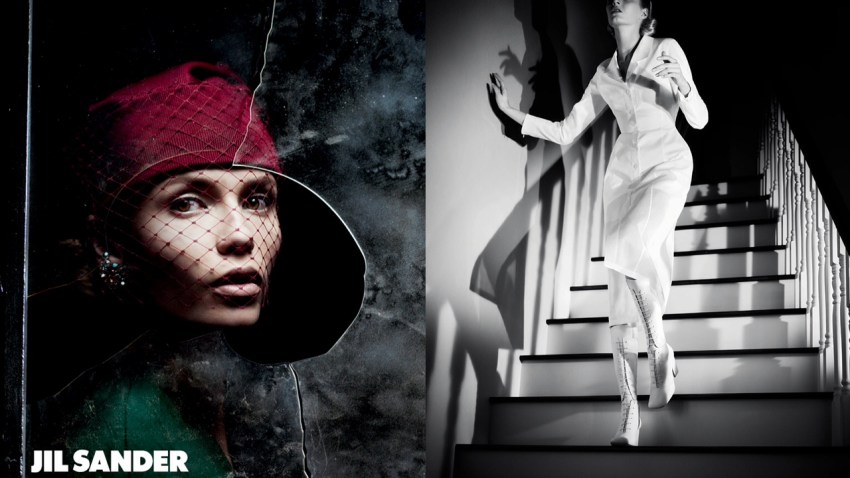 Raf Simons is leaving Jil Sander, setting the fashion world wondering if he is headed to Christian Dior to -- finally -- replace John Galliano, and if Sander herself will return to her namesake label. (Update: Reports indicate Sander will be returning; see below for more details.)
Ever since Marc Jacobs was officially removed from the running for the top post at Dior, Simons has been the top name on the list. (You may recall that Dior parted ways with Galliano last Feburay after he was caught on video in an anti-Semitic tirade.) In late December, reports surfaced that Simons might even be close to a contract for the position.
Now German magazine Gala reports that Sander might be returning to the label she left eight years ago as quickly as within four weeks, which would position the move tidily in the wake of Paris Fashion Week. Sander founded her company in 1968 and eventually sold most of it to the Prada group.
At the moment, Raf Simons is poised to present his latest Jil Sander collection at Milan Fashion Week on Saturday, and we'd wager this report will be a major topic surrounding the show.
Sander said it planned to replace Simons within a few days.
In a statement, the company thanked "Simons for his dedicated commitment to the brand, throughout these years, and wishes him the very best for the future," according to Women's Wear Daily.
Update:Suzy Menkes of the International Tribute is reporting in an article that is also running in The New York Times that Jil Sander will be returning to the helm of the label left eight years ago. While the company has apparently said it will not make a formal announcement for a few days, a source has relayed Menkes that Sander "would take up her role immediately."
Menkes also reportedly spoke with a spokesperson for Dior, who relayed that the company will make no statement concerning possible new designers, "at least until after the ready-to-wear collection is shown" on March 2.