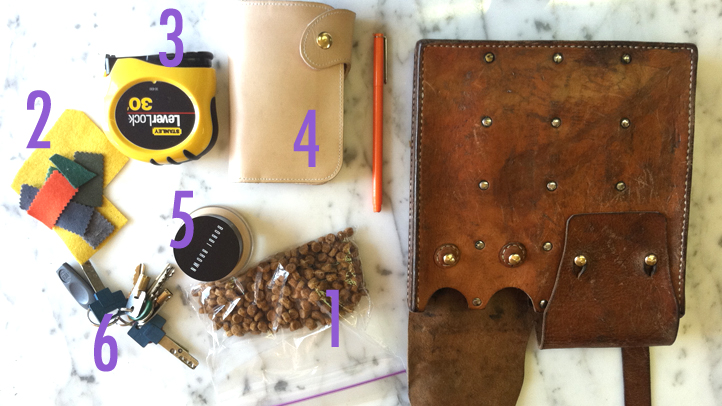 New York designer Lauren Moffatt once lived on a boat in the Hudson River, so it's hardly surprising that she only keeps super-practical essentials stashed in her cool studded satchel. A handful of wool swatches, measuring tape (for the impromptu household purchase), and a baggie of spare kibbles for her furry friend, Gertie, keep Moffatt organized at all times.
1. Treats: "Baggie of dog food for Gertie, who's at the office with me today."
2. Fabric Swatches: "A few wool swatches from the last fabric appointment I was at."
3. A Tape Measure: "Seems there's always a few things I'm looking for in my apartment. A certain size table, frame, a bench for our hallway. This tape measure gets used constantly and I no longer have a collection of items that I thought would fit!"
4. Wallet: "My new favorite! It's from Leather Goods Connection and made in Georgia. I love the campy handmade feel of it, and he put custom gold hardware on it for me!"
5. Beauty Essentials: Bobbi Brown Moisturizing Face Balm
6. Keys and Pen