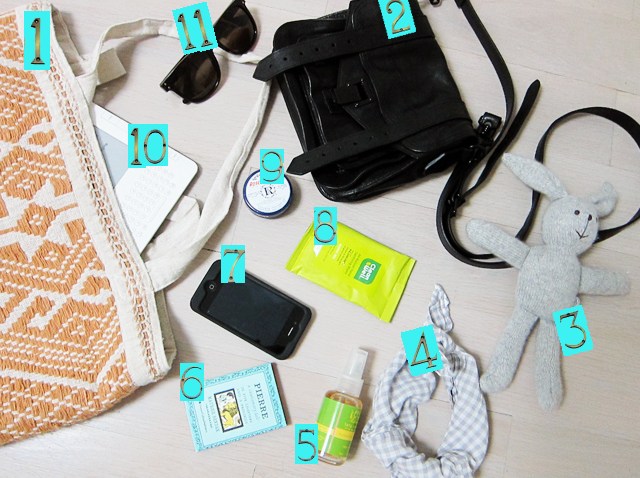 Maybe it was this weekend's Mother's Day festivities that filled us with such particular admiration for designer Jessie Randall -- she of the quintessential downtown shoe source, Loeffler Randall -- who, in addition to serving as creative director for her brand, is mother to three gorgeous boys. Like any mom on the go, Jessie keeps her handbag stocked with kid-friendly gear and a some (electronic) reading material. Unlike most, however, it's a luxe PS1 satchel that shelters Baby Harry's fluffy blue bunny and stylish gingham bandanna.
1 - WOVEN BAG: "I tend to carry a huge tote to cart all my stuff around. This one I got at Bird in Brooklyn, one of my favorite boutiques."

2 - PS 1 BAG: "I carry my wallet, keys, Metrocard and other essentials in my mini PS1 bag. When I have a lunch out or an evening event, I just pull out the PS1 bag and go. The bag was my big Christmas present from my husband and I love it!"

3 - BUNNY: "This cashmere bunny by Baby CZ goes everywhere with us. I got it for new baby Harry before he was born and he loves to cuddle with it."

4 - BANDANNA / BIB: "One of my favorite children's clothing lines, Makie makes these adorable little bandannas out of beautiful fabrics like the gingham one pictured or Liberty prints. They are about $10 more expensive than regular bibs but so much cuter. I find that I get more use out of a few well chosen, beautifully made children's items than mass-produced stuff."

5 - TATA HARPER SKINCARE: "My friend recently turned me on to Tata Harper skincare products. I love these all natural products made of ingredients grown on Tata's farm in Vermont. My skin feels soft and healthy."

6 - BOOK: "Pierre by Maurice Sendak is one of my boys' favorite books. These 'nutshell library' versions are teeny tiny and perfect for on the go."

7 - IPHONE: "I finally caved and got an iPhone after the tenth person in a week laughed out loud at the prehistoric phone I used to have. I bought the iPhone primarily for the Hipstamatic photo app. I am obsessed with the way these photos turn out! I am constantly boring my friends on Facebook with a million Hipstamatic photos of my beloved boys."

8 - CLEAN WELL: "I am a germ-a-phobe. I love Clean Well because it is an all natural hand sanitizer."

9 - LIP BALM: "Nursing my sweet baby leaves me dehydrated with chapped lips. I always have my Rose's lip balm in my bag with me."

10 - KINDLE: "As with the iPhone, I really resisted getting this piece of technology but I really love it. I actually read so much more because of it. I just read an interesting profile of Reed Krakoff in The New Yorker."

11 - SUNGLASSES: "I hardly ever bother with sunglasses but I recently pinched these Burton ones from Brian and I like them."