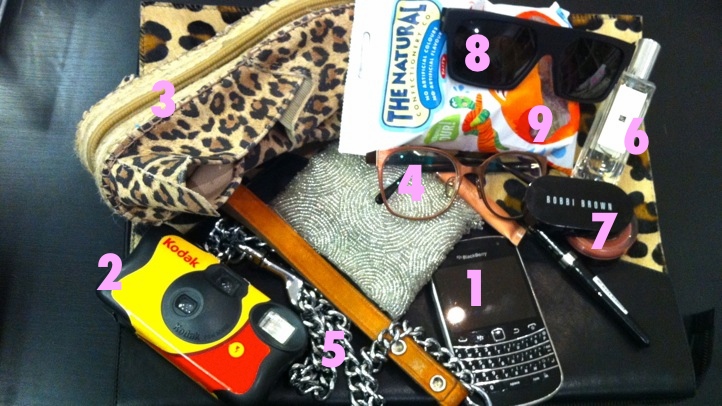 Business-savvy Anna Laub has been everything from a fashion model to an editor, but designing Prism—her collection of fashion-forward eyewear (and, more recently, swimwear and espadrilles)—appears to be the hat that fits best. Here, she spills her stylish handbag contents, which is jam-packed with everything from orange blossom perfume to disposable cameras and, naturally, some stylish sunnies.
1. My BlackBerry – "I haven't made the switch to an iPhone because I travel so much and cannot do without my email everywhere I go."

2. Disposable Camera - "Whenever I remember, I love to bring a throwaway camera with me. I love the surprise of getting photos developed. Something we used to take for granted is now so exciting!"

3. Flats – "When you need to get around fast or if you've had a long day, flat shoes are a savior. My Prism leopard suede espadrilles are so comfortable, and I love that they add a touch of leopard print to my outfit."

4. Eyeglasses – "I'm short-sighted and when I'm tired I can see even less. My Prism rose-gold 'Tokyo' optical glasses are a huge help, especially when I'm watching shows at Fashion Week!"

5. Dog Lead - "My black Labrador Lina is our office mascot. I walk to work with her in the morning through the park."

6. Perfume - "Orange blossom is my favorite smell. I take this perfume everywhere with me."

7. Cosmetics - "I'm a little obsessed with travel-size cosmetics. I don't wear much makeup but I always put on black liquid eyeliner, a little Bobbi Brown lip colour—which doubles as blush—and some Clarins lip gloss."

8. Sunglasses – "My Prism Byron Bay glasses in matte midnight blue were actually designed for men but I ended up always wearing them. I like to add a little masculine detail to an outfit."

9. Natural Sour Worms - "These sweets never fail to keep me going when I'm having a long afternoon!"
Related Stories:
Cary Vaughan of Ace & Jig Stashes Water Balloons in Her Bag
Geren Ford Carries Goyard Envelopes and Berocca Vitamins