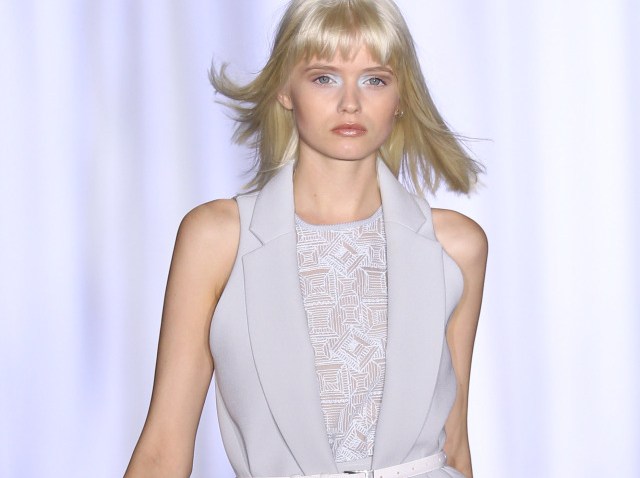 Staged against a luminous backdrop of cascading ribbons of tissue paper, Preen's spring collection was a brilliant continuation of the label's knack for making structured, near-avant-garde pieces feel feminine.
Rendered in a neutral palette of grays, beiges, and icy blues, Preen's spring collection was confident showing of exquisitely tailored suiting -- heavy boyfriend blazers and vests -- juxtaposed with equally tailored feminine pieces like full skirts. Lace and beaded tanks added a wonderfully delicate element to the strong mix.
The unique tailoring of the separates seemed to echo Altuzarra's forward-thinking tailoring in his spring collection, though Preen took a similar idea in a much more wearable direction, even taking rather iconic shapes (a full-skirted dress with a nipped-in high waist) in a more inventive direction (giving it a delicate lace top to act as a tank against a poufy swing shape). Equally creative was the incorporating quilted leather and wide fabric belts that looked like the tops of pants into some of the collection's more billowing shapes, to give them a bit of structure. The effect was as clever as it was double-take inducing, and we'd bet this collection winds up at the top of many editors' lists.