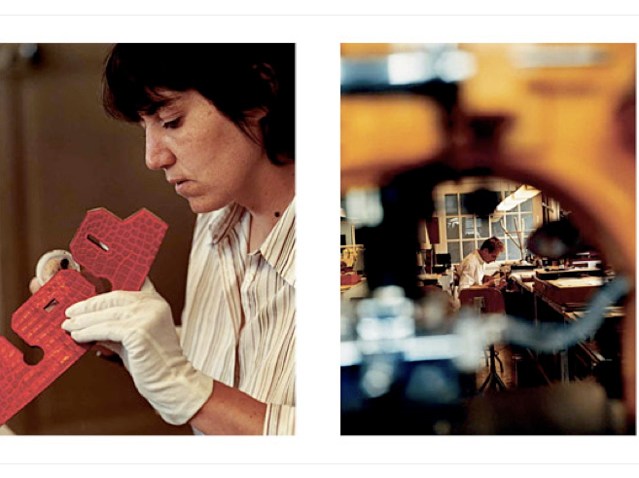 South African photographer Koto Bolofo was one of the few to be granted unprecendented access to Hermès' workshops, and the result is a spectacular, eleven-volume series called La Maison.
"I'm old school, you see," laughs Bolofo. "I use real film and printing, which I still think is the best method, in spite of the latest digital camera, etc. Film retains that raw quality -- and that's what I tried to get through to Hermès. You have to show that rawness, that pureness of who you are, and not always the shop window, because soon the person across the street will do the same shop window if you're not quick enough to show them that this was the birthplace."
Bolofo worked with the venerated house for over fifteen years on various lookbooks and catalogs before embarking on a seven-year effort to document its secretive crafting techniques in La Maison. "I didn't know it would take that long," he laughs. "But I'd gotten to a point where I was really bored, and I said you know, I just think this is really kind of a dead-end thing. I know how to photograph models and photograph product. So I approached [the chariman], Jean-Louis Dumas, and told him just that. I said I feel I'm going around in a circle. I feel complacent. And I know there's something more here I can do."
When Dumas discovered that the precocious artist hailed from Lesotho -- a small country within South Africa -- and furthermore that he was descended from the Sotho tribe, he excitedly regailed Bolofo with the legend of his great great grandfather, who'd worked as missionary in his homeland and was protected by the Sothos against frequent Zulu attacks. "He told me, 'That means you're my cousin!'" exclaims Bolofo. "Of course, I thought he was off the planet, you know. But he said, 'If you're my cousin, you have carte blanche to go wherever you want and photograph whatever you want in this building.' I thought to myself -- I'm so glad I'm a Sotho!"
Bolofo worked tirelessly for nearly a decade after to remove some of the secrecy surrounding Hermès design process. "I became, mentally, an apprentice, an intern, looking and studying how a shoe was made before I even picked up my camera."
But beyond showcasing the tremendous talents of the house's craftspersons, Bolofo's unprecedented access to Hermès' buildings for La Maison gave his project singular historical significance. "They really needed me, it turned out," he says. "What surprised me most when I met Jean-Louis Dumas was that Hermès didn't have an archive. They didn't have a record of their work since they were founded. There were only a few aimless photographs -- of let's say a building, right, and a general picture of workers ... I thought, this is really crazy!"
Bolofo's unique contribution to the brand's legacy will not only help Hermes' claim status as one of the true luxury brands, it also preserves the history of its craftspersons and artisans. "I said to Monsieur Dumas, you know, your secrets will destroy you," says Bolofo. "What you have are the roots -- now show your roots! Nobody can match that. Nobody will ever be able to match that."