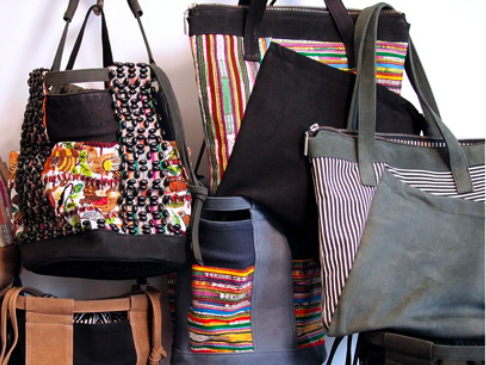 It's easy to get disheartened with the selection of predictable "It" bags on the market these days: Are you a PS1 or a Nightingale? A Bayswater or a Brenda? Happily, Florida-native Lia Cinquegrano is here to infuse a little inidividuality into the It-bag sphere: "I like for the clothing and accessories I wear and the objects and furniture in my house to have a personality," says Lia. "I approach aesthetics with a sense of humor. Sometimes I wear outfits that make me laugh, which in turn makes me feel good and look happy—and looking happy means looking good, right?"
We couldn't agree more. Bold and bright, Lia's line of quirky handmade bags, Thomas IV (named for the imaginary successor to her brother, Thomas III), are the kind of accessories you can expect to be asked about while walking on the sidewalk or standing in an elevator with a total stranger. "I could not find a bag that matched my aesthetic, so I started playing around with printed leather and cutting up old leather jackets to make bags that I wanted to wear."
For her debut spring collection, Lia looked to vibrant Gatemalan ikats and color-blocked sheep suedes for her satchels and bucket bags, right in step with all the pattern-mixing we've been seeing on the runways. "The Guatemalan fabric was hand-woven for me and inspired by the fabric used for the 'cortes,' which are long pieces of fabric wrapped around one's body and worn like a skirt," explains Lia. "The black and cream stripe is usually used as lining fabric, but I like the idea of using materials in an unconventional way, so the lining became the exterior in a few styles." For fall, Lia played with clever "trompe l'oeil" embellishing techniques, like creating a custom houndstooth pattern meant to look like fabric, but which, upon closer inspection, reveals itself to be tiny black beads.