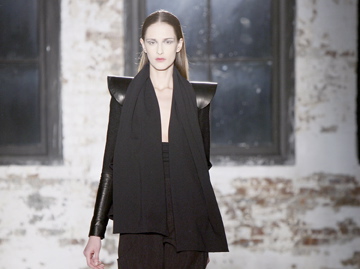 Even though Sally LaPointe only launched her label in February of last year, the designer is among the most discussed new talents in the business thanks, in no small part, to Lady Gaga's frequent television appearances wearing her garments.
"She wore several pieces from my Spring 2011 and Fall 2011 collections," explains LaPointe, a Massachusetts native who relocated to New York after graduating from RISD's rigorous design program. "To do that for someone as forward as she is is incredibly rewarding."
The buzz surrounding LaPointe and her techie, aggressively modern gear might have fizzled had she not followed her debut with such a spectacular fall 2011 presentation.
Inspired by "photographic processing," LaPointe elaborates that the collection was meant to evoke "the idea of a latent image emerging into visibility, the exact seconds that happen in the darkroom when a photo comes to life."
The ultra-specific inspiration was related in swathes of printed jersey, leather, boiled wool and pops of soft fur, giving the collection a futuristic look that was still anchored in classic textures and materials.
And while the relationship with Miss Gaga has bolstered her young brand in ways she couldn't have imagined, LaPointe says she envisions Kate Lanphear, ELLE Magazine's punky-cool fashion director, sporting some of her edgier garments. "She would do it justice."