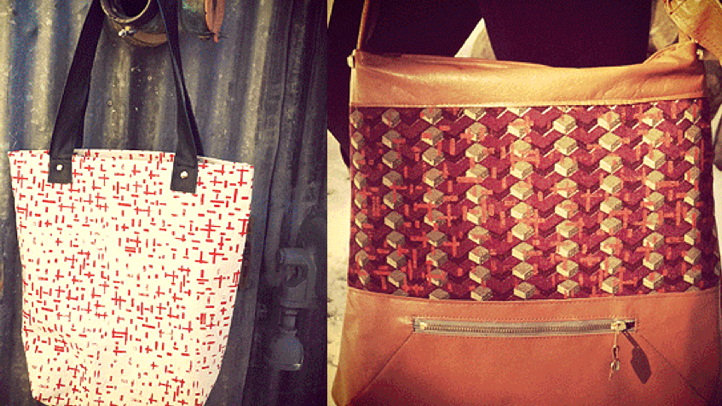 Melissa Michelsen pursued a degree in fine art and psychology because she thought she "shouldn't try to be a struggling artist or designer like so many in my family were." But, Michelsen acquiesces, it was "inevitable" she would eventually give in to her creative impulses.
"I ended up taking tons of fashion courses in San Francisco to learn pattern making," explains the California-based designer. "I drove there every week for two years from my Tahoe life—it was a nice mix."
In 2000, armed with her new sewing skills, Michelsen found herself crafting a tote for her best friend's birthday. The finished product—a colorful creation fashioned from scraps of vintage fabric—ended up being the first piece of her own collection, Love Mert.
Today, Melissa's line includes hip totes and clutches fashioned from her own handprinted textiles (as well as bright, handpainted geometric cocktail rings).
"Moving into my own textile design has been something that I wanted to do for a long time," says Michelsen. "Most of my inspiration comes from nature, objects, architecture. I love to see repeating patterns in things and then reinterpret them by hand drawing and painting them, blowing them up or shrinking them. One pattern I'm working on is coming from a spider web I saw on a plant in San Francisco—it had such a unique pattern that I had to paint it."
Other design details include handpatched scraps of leather sewn together to create larger bags. "[It] has become a 'look' that I feel is organic, and makes each piece one of a kind in a way," Michelsen says of the technique. Each piece also features handsculpted rivets and unique hardware—even a few fashioned from wood, which she says plays off of the "wood jewelry that I have been doing with the help of my dad—[a] wood artist specializing in wood hats."
Related Stories: