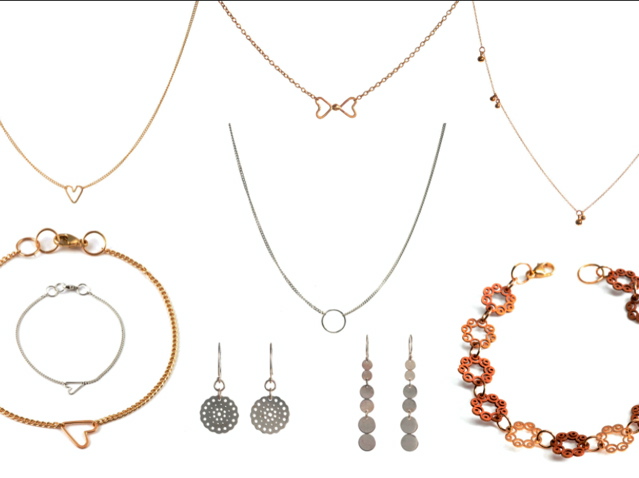 Jane Hollinger started making jewelry for herself while living in Brooklyn in the '90s. "People started asking me where I got the pieces, and then ordering them, and the rest is history," says Hollinger, who has since relocated her line of dainty, feminine gems to upstate New York.
Hollinger -- who'd originally studied to be a photographer and, later, a video artist and sculptor -- says she was drawn to the challenge of creating "a wearable piece of metal." As Hollinger puts it: "Metal is an incredible material to work with ... I love the process of cutting, hammering and shaping each piece."
The designer's mastery of her craft yielded a collection of classically feminine baubles that didn't adhere to current trends or "statement" pitfalls.
"I am drawn to the small and fine," says Hollinger, whose simple heart-shaped necklaces in 14-karat gold are among her most famous. "Spider webs, for instance, are fascinating as they are thin as silk but so strong. I like that play of fine and strong, the complexity and contrast of jewelry."
To be sure, there are plenty of flower and bow motifs to satisfy the girly-est jewelry shopper, but Hollinger is quick to make a distinction between her work and cutesy fare. "I would never say I was a 'girly-girl,' but rather a 'woman's woman,'" she explains. "I try to make pieces that make the wearer feel beautiful and enhance her features."