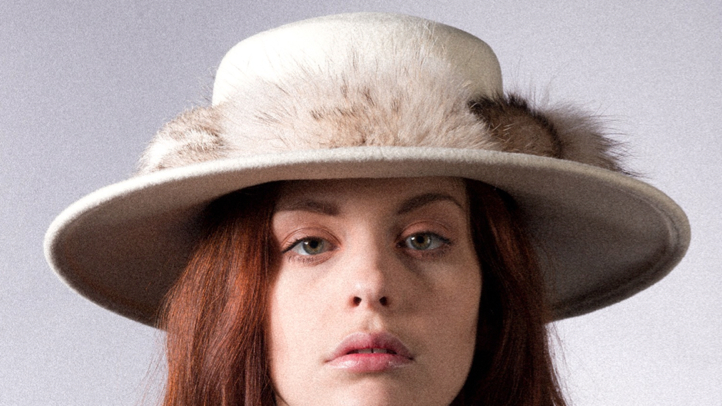 While studying abroad in Paris, Gigi Burris became fascinated by the city's old-fashioned hat shops.
"I knew I would study the craft of millinery when I got back to New York," says the Florida native, who relocated to New York in order to study fashion at Parsons.
To develop her skills, Burris took an apprenticeship beneath couture milliner Leah Chalfen. While Burris shares some of Chalfen's feminine aesthetic, her own designs seem to have a more modern, everyday appeal, like a dainty cloche hat with a contrasting taupe ribbon or a luxe woven beanie with fur details.
"In my work, you will see romantic yet dark elements," Burris told us. True to her Floridian heritage, Burris has a special affinity for alligator leathers, which lend an exotic appeal to everything from asymmetrical safari hats to flat, Mescalero-style toppers.
"I look to art and also amazing vintage hats from the 1920's and Victorian era," Burris says of her inspirations. Indeed, her latest collection boasts an old-fashioned kind of theatricality, in particular a blue and teal "winged" crown that literally looks like a set of wings mounted onto a feathery headband.
Until now, Burris has worked on a made-to-order basis, but will roll out a full e-commerce site this summer with her Fall 2012 collection. If hats don't strike your fancy, a range of fanciful headbands and hair pins make a subtly chic statement.