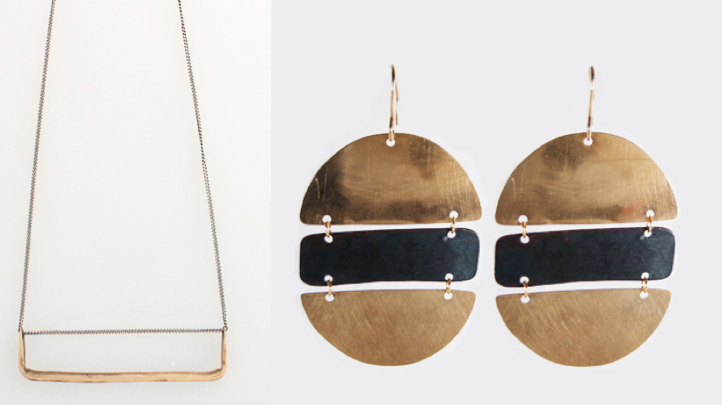 After receiving her first paycheck for teaching a graphic design course at the Maine College of Art, Connecticut-native Fay Andrada immediately enrolled herself in a metal smithing program. "There was an immediate connection," explains the 33-year-old designer. "My taste in jewelry has always been really particular, so having the tools to make my own pieces was extremely satisfying."
After stocking up on the necessary tools and supplies, Andrada went about setting up an online shop from which to peddle her clean, geometric baubles to friends back in Brooklyn, where she'd lived while attending NYU. Naturally, the pieces -- with their simple shapes and refined details -- soon found audience outside her group of friends, and the brand has continued to grow ever since. "It's been a bit of a whirlwind," she says.
With a masters in graphic design from the London College of Communication, it's no surprise that Andrada finds inspiration for her jewelry in the world of art and architecture. "I grew up around a lot of mid-century and Scandinavian design," she explains. "That's what I came from, and now that I have a studio in Greenpoint, I'm becoming increasingly inspired by all the industrial spaces and factories nearby."
While we would hardly describe Andrada's aesthetic as industrial -- "I like grids, gears, beams ... very much evidenced on my Instagram account," she says -- the clean, sophisticated lines of her work do share a kind of understated elegance with the factory gizmos she's so inspired by. The "Suippo" bangle, fore example -- a teardrop-shaped bracelet with a sharp point -- looks like it could be a cog in some stylish, futuristic machine.
"Simple, architectural shapes are my signature," explains Andrada. "I try to create one unique shape, rather than add multiple details."

From $75 to $160 at FayAndrada.com