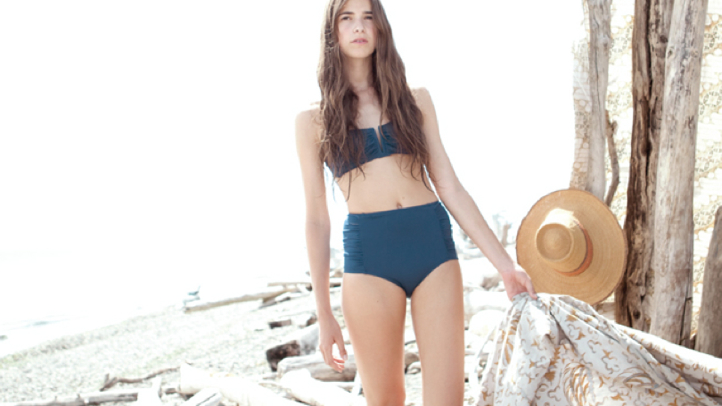 It's no surprise designer Leah Lawrence has a knack for swim design. After spending the first five years of her life in the small, landlocked country of Swaziland in southern Africa, Lawrence's family relocated to Seattle and, later, Maui.
"I love what swimwear represents...being in or near the water, being in the sun, and being relaxed," she says of her collection, Drifting Arrows, which officially launched this summer. "I also felt like there was still a need for fresh and interesting swim lines."
Composed of four classic but undeniably fresh swim styles, Lawrence prioritized quality and precise tailoring over an expansive debut.
"I decided to import my own fabric because the best I could find was in Italy, which I buy directly from the mill," she explains. After exhaustive fittings and adjustments, each piece—a retro, high-waisted bikini, a sporty cross-back bikini, a feminine one piece with a bow in the back, and a cross-back one piece—is manufactured in the U.S.
"In the design phase I really focus on what I believe women are looking for and only go forward with styles that have a timeless quality and ease," says Lawrence. With the collection en route to Maryam Nassir Zadeh on the Lower East Side, Drifting Arrows' easy, elegant swimwear will soon be within reach for New Yorkers.
Related Stories:
How to Pick the Perfect Bikini
Shopping Guide: Swimsuits
Summer's Hottest Swimsuits
One to Watch: Ora
One to Watch: Metalepsis Projects