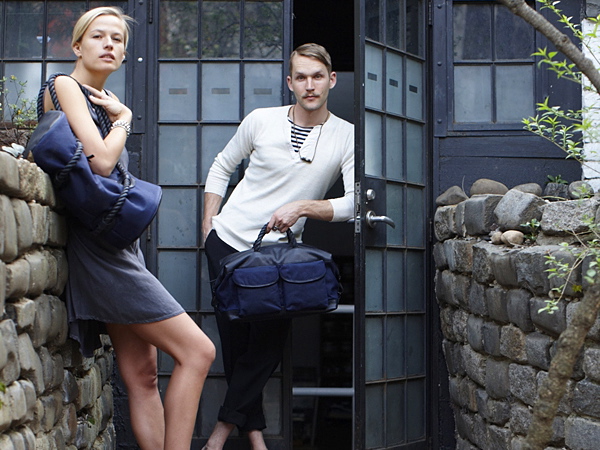 As spring approaches, our attentions have turned to finding the ultimate rough-and-tumble satchel: nothing too flashy or identifiable, but still "designed" enough to make us excited to carry it with a breezy sundress. Happily, that's precisely what one gets from Adam Davidson's Brooklyn-based luggage label, AANDD: simple, impeccably-crafted bags with a touch of nautical style for spring.
Before he officially started working in fashion, Davidson—an industrial designer and architect by trade—was always tinkering with some stylish project or other. "I started by making bags and accessories for friends from found materials. Wallpaper, leather samples. I made a little bag that looked like a log, I made iPod cases, fanny packs. Then I got more ambitious and started making more finished pieces like dop kits, weekenders and also outwear."
Designed with creatives and casual professionals in mind—"oh, and models on yachts," Davidson adds—AANDD's spring collection centers around three core styles, the Sea Bag, Sea Duffel, and Courier, each equally appropriate for an intrepid sea voyage as a day spent picnicking in the park. For fall, Davidson expanded the collection to introduce six new styles, including the "Academy" folio clutch, a mini pocket satchel and a perfectly slouched backpack, dubbed the "Sea Sack." And just to sweeten the deal, each bag is customizable in black, navy, saddle or oxblood leathers.
For ordering information, visit Adam's website at adamanddavidson.com