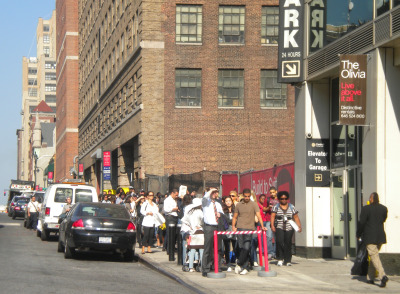 If you weren't in line by 7:30 this morning, we're going to guess you're still shopping the Hermes sample sale. Or rather, waiting to shop it.

Expectedly, it was a scene.
The basics: First customer in the doors at 9am arrived at 5:30 a.m. We got in at 10 a.m. after flashing a press pass and (willingly) surrendering our camera and Blackberry to the strict no-photo-enforcing security "guardspeople." While we were told at the door that they were replenishing merchandise on a rolling -- versus daily -- basis, we only spotted the Garden File bag on section shelves, leading us to fear that more substantial styles like the Birkin and Kelly may have been snapped up already. (Or are, in fact, being held for Friday, Saturday, and Sunday first-comers.)
Now for the good news: The jewelry, tie, and home selection was impressive -- and impressively priced. Best bets include fragrances as low as $70, gloves from $160-400, and leather and ceramic bracelets (we spotted the Filet de Belle for $282 from $940). To-be-expected quantity limits included bracelets (limited to five per customer), home goods (limited to three), and scarves and ties (limited to ten).