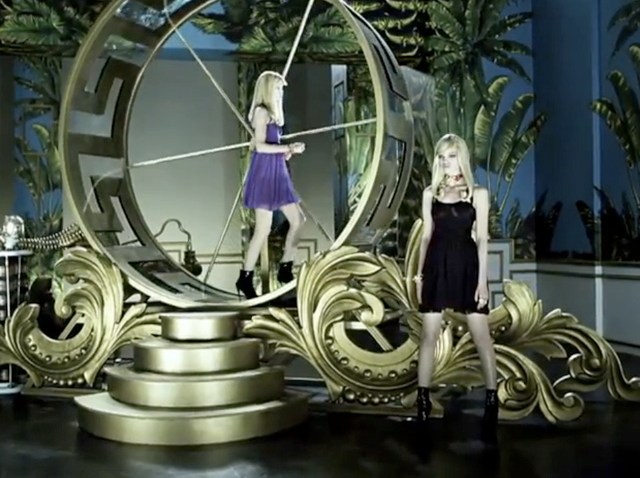 As the anticipation leading up to the launch of Versace's new collection for H&M builds, two new videos offers a behind-the-scenes glimpse at the goods, including footage of the upcoming commercial for the Versace's for H&M collection.
Starring Lindsey Wixson and Daphne Groeneveld, the commercial appears to have a luxe sci-fi vibe, complete with Wixson jogging in a gold-painted hamster wheel (accented, of course, with the Versace logo).
At one point, director Johan Renck remarks that "we actualy used all the gold paint in London that was available for this job," referring to their extremely elaborate sets.
Donatella Versace also appears in the clip (and, judging by the backstage footage, may actualy appear in the commercial), expressing her admiration for Renck's "grand" production as well as her enthusiasm for the collection itself.
In another video, Donatella highlights some of her favorite pieces from the new collection, including the flashy jacket in a "Miami print," which Donatella calls "an iconic moment of Versace history in fashion."
"When I see young people on the street wearing these iconic pieces, it's going to be fun," she says in the video. Indeed, the H&M collection does seem to feature some of the brand's most signature prints and pieces, so those who are already fans of the brand will likely be pleased. Those that would prefer a more subtle approach to fashion should likely stay home.