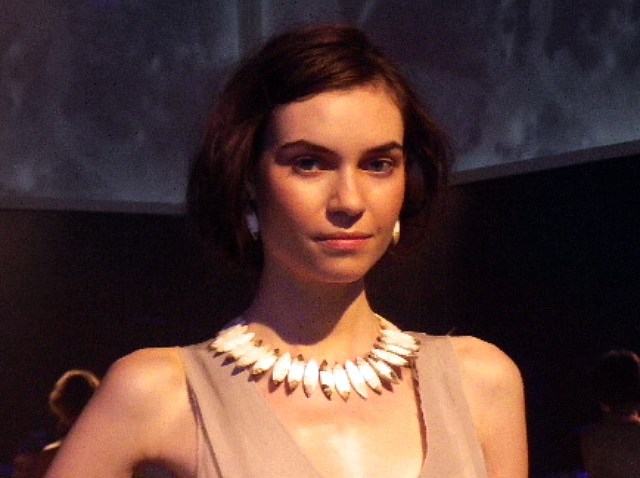 Monique Péan is on a roll. In the last year, the young jewelry designer was named a CFDA/Vogue Fashion Fund Winner, received the eco-design-focused Ecco Domani Fashion Foundation Award for Accessories, and holds bragging rights for including Michelle Obama as a fan.
Needless to say, the bar was set high for the former Goldman Sachs analyst who debuted her first Fashion Week collection yesterday at Lincoln Center, however Péan's offering of gorgeous necklaces bracelets and earrings—inspired by a recent trip to French Polynesia—certainly didn't disappoint. Both cohesive and apropriately varied, Péan's lineup included handcrafted baubles fashioned from fossilized wooly mammoth, walrus ivory, Tahitian seashells and sustainably-farmed pearls.
A vast departure from the bib-style statement necklaces taking up real estate on many of our breastplates this season, Péan's neck pieces hovered relatively close to the collarbone, each showcasing its natural, earth-derived materials with little other distraction. A particular standout was a shimmering, opalescent shell necklace with a rose-tinted shell nestled on a pendant of fossilized mineral, which evoked the beauty—and bounty—of the ocean, while a necklace of flat and ovular walrus ivory pieces conveyed an envy-inducing island sensibility that nevertheless translates perfectly to the island of Manhattan.
Baubles aside, Péan's ten models donned neutral-toned, billowing shift dresses produced from by-products of a cotton plant and designed by fellow Ecco Domani winner and friend, Eviana Hartman of Bodkin.