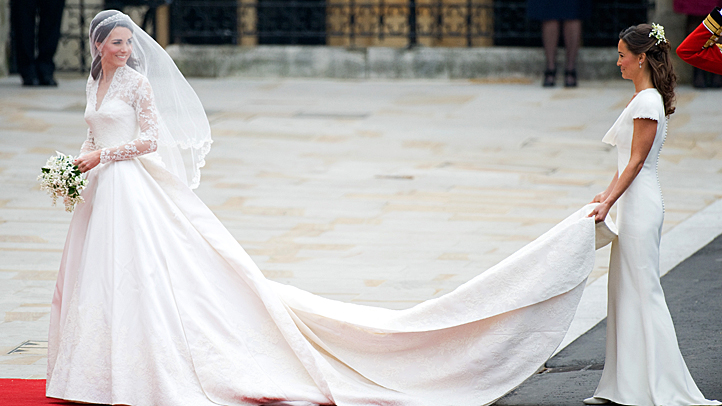 Between the death of Alexander McQueen and the unveiling of the gown Kate Middleton would wear when she married Prince William, designer Sarah Burton was an incredibly reclusive figure. In the last month, however, the designer has become more vocal about her inspirations and how she kept that wedding dress a secret from everyone -- even her own parents.
In a video on Nowness, the designer gave Cathy Horyn a guided tour of the Spring 2012 collection, bemoaning the lack of real talent from a manufacturing perspective: "You always feel that so many people want to be the designer now ... What I find quite sad is that you can't find many pattern-cutters, you can't find many people who want to do the craft of it."
Then in a new interview with Vogue UK (as reported by The Telegraph), Burton reveals that she was bound by a strict confidentiality agreement, so she would often even make appointments as a cover that she knew she wouldn't be able to attend because of wedding dress arrangements. The timing of the McQueen retrospective at the Met proved a boon because she could also use that as an excuse for missing appointments.
She tells Vogue UK that even her parents had to wait to find out until the eve of the ceremony, and certainly didn't get any special treatment, according to the Telegraph:
Speaking about the commission for the first time, Burton, 37, said: "It was so great to actually keep a secret, especially in this day and age when everyone talks about everything."

Burton's parents, Anthony and Diane Heard, were told only on the eve of the ceremony. To find out just what their daughter had created, the couple had to join the crowds on the Mall and catch a glimpse of the Duchess via a periscope.
Burton also credits McQueen himself with the success of the dress, telling the magazine: "Out of such terrible, tragic times and from under this dark cloud came that dress."