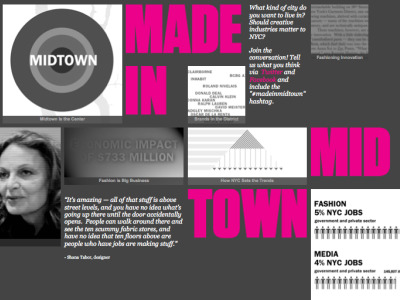 The results of an independent study by the Design Trust for Public Space (DTPS) and the Council of Fashion Designers of America (CFDA), Made in Midtown, revealed a vibrant epicenter of efficiency and ideas.
DTPS executive director Deborah Marton discussed the encouraging and somewhat surprising outcome of the six-month, on-site anecdotal and statistical study, identifying the Garment District as every bit the "research and development hub," as well as its practical layout for cost- and time-effective manufacturing.
Marton points out that NYC's Garment District alone is home to 846 fashion companies - more than Paris, London and Milan combined - a number that belies the anxiety that's set in around the neighborhood's increasing rental rates and general lackluster atmosphere in the wake of financial hardship. Activists among the CFDA and fashion community at large, including the associations president, Diane von Furstenberg, as well as Nanette Lepore, Anna Sui, and others, have been working to maintain the Garment District's spot on the City's radar. These initial results represent a boon in the right direction as it offers quantifiable answers to the central question - why is the fashion industry important to New York?
The phase-one findings, mapped out at madeinmidtown.org with complete with compelling slideshow presentations, videos, and charts, are just the beginning. The second stage of the survey will explore strategies for sustaining and properly revamping related industries, focusing not just on the importance of fashion and creativity, but the essential components of employment and economic viability to the community at large. It will include the continued discussion about domestic versus overseas manufacturing. The DTPS will also participate in a separate study by New York City's Economic Development Corporation this summer, entitled Fashion NYC 2020.
We suppose some of the industry's biggest champions are enjoying an internal, "we told you so" feeling inside, because they've been saying it all along, but with such tangible findings, things can only get better.