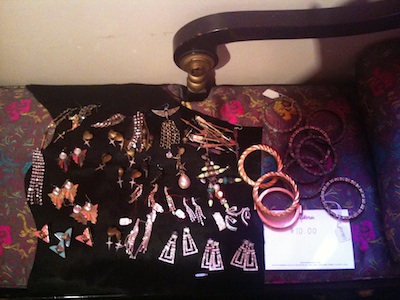 The Fenton-Fallon sample sale runs just through tomorrow, so we'd suggest heading that way asap to score great prices on earrings galore, plus bangles, necklaces, rings and vintage duds.
Judging from the sizeable crowd milling around the small shop off Freeman's Alley, the oodles of reasonably priced disco-glam dangly earrings, studded cuffs and statement necklaces will dwindle fast. There's a bargain bucket of awesome cocktail rings for $25, spanning the Robert Indiana LOVE sculpture to a giant locket, eagles, skulls and snakes to start off the fun, then earrings of just about every ilk for a mere $35-$50. Bracelets also ranged between $35-$50, while statement collar necklaces are going for $60 and a handful of headbands for $55.
At the back are some gloriously dress-up-trunk vintage picks, paired with Fenton-Fallon necklaces priced at $125. We had fun ogling the mega tangle of chains and crystals that Jessica Stam wore a few weeks back, but alas, the $1,200 piece wasn't part of the sample-sale fun, natch.
Like we said, the deals are plentiful but fleeting, so no dilly-dallying.