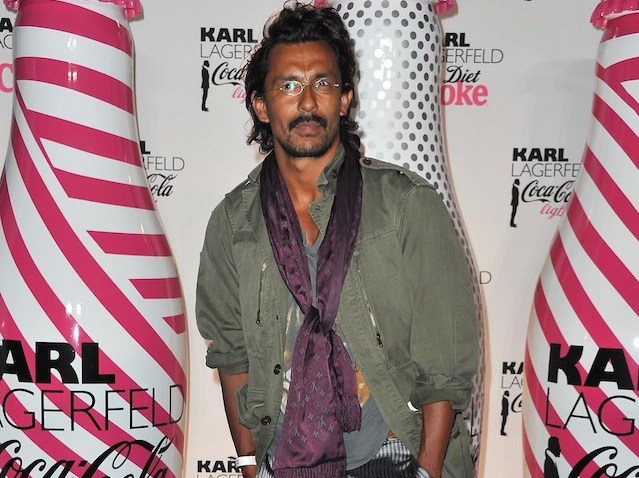 The fashion industry has of late been so obsessed with Haider Ackermann that whenever there's a vacancy at the head of a major design house, his name tops the list of potential replacements.
WWD sat down with the designer, who made clear his distaste for Facebook, Twitter, and disposable celebrity culture, as well as numerous tidbits about his career history -- from his stint as a homeless intern at John Galliano to his Chinese karaoke-born friendship with Tilda Swinton. What Ackermann would not give up, however, were any hints as to which house might land him as head designer.
On the Haider Ackermann woman:
"I understand her more. In the past, she used to be much more a stranger, more unreachable. She was coming from nowhere and was more tormented and complicated. Now, you know when you have a good moment in your life, you want things to be more laid back? That's why the fabrics are more fainting on the floor, why there is a kind of negligée feel about it."

On being compared to YSL:
"I think journalists are always trying to put names on top of everything. I could understand Saint Laurent because of the colors, although how can you associate the name Haider Ackermann with Saint Laurent? Honestly? We're talking about genius and we're talking about me."
On working for John Galliano:
"It was the best study ever. You know, at the time, I had no money, nowhere to stay, so I was sleeping on the street and going every day to work. I put my luggage in a locker at a youth hostel and went there to take a shower."
"I remember a sense of humor ... I cannot talk about it though, because it was so sarcastic and it's bad to talk about this now. Due to all the respect I have for Mr. Galliano, I prefer not to mention his name. It's not healthy to talk about a company who suffers and a designer who suffers."
On the pressure of being a designer:
"We should not forget we're designers. We all have the chance and the luck to tell a story, to have a voice, which is a luxury position compared to so many people who don't have [that opportunity]. So, yes, it might be a tough job, yes, there might be tension, but there's much more tension and hardness and despair out there. I mean, give me a break. My father now works for Amnesty International, so let's not talk about that."
On Facebook and Twitter:
"Honestly, I hardly have any time for my friends so how can I be on Twitter and Facebook and all of this? And not everybody has to know what I'm doing every minute of the day. I don't understand why people have to show pictures wherever they are and things like this. I mean, who gives a damn what I will do every minute of the day? And if that person gives a damn, is he that bored with himself?"
On blogs:
"No, I don't read them. Perhaps I'm very old fashioned. Not everyone has got the knowledge to criticize each other. When you go to fashion shows and you see all those people outside taking pictures of each other -- the street is almost getting more important than what's happening inside the space. I don't get it. I like to meet people in the street, but I think it's taking things to proportions which are absurd."
On celebrity designers:
"Everybody is a fashion designer nowadays. But then again, sometimes you're surprised that a celebrity-singer can make quite a fantastic collection. When you look at Ms. Victoria Beckham's collection -- chapeau! Chapeau in French means 'wow, fantastic.'"
On Balenciaga's Nicholas Ghesquière:
"I'm sorry for the words, but fu--, how does he do it every damn season?"
On singing karaoke with Tilda Swinton:
"She's has a quite nice voice, which is not my case. I mean, this is quite embarrassing, but I like to sing 'Take Me Home, Country Roads' and 'Love Lifts Us Up Where We Belong.'"
On the rumors surrounding his next gig:
"Let the rumors talk. But I would, at a certain point, accept a house which might fit me and which I would feel comfortable with -- but there are not many. I don't think one single person knows the house I'm dreaming of ... Nobody is going to figure it out because it would be a total surprise."