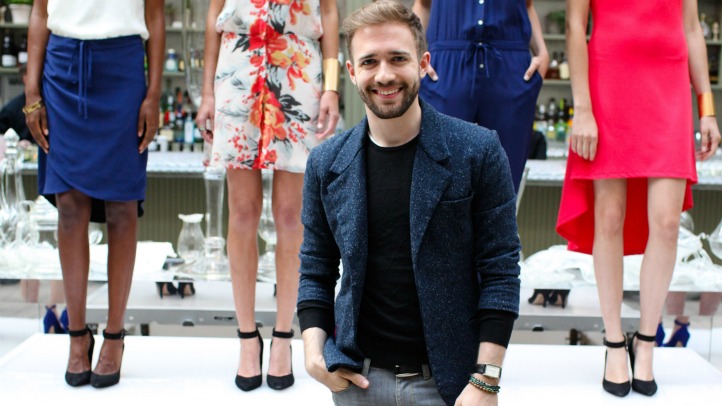 Fashion Institute of Technology graduate Kieran Dallison is the recipient of the first Gilt Groupe CFDA All-Star Scholarship. In addition to a $10,000 scholarship toward his Spring 2012 semester, Dallison also got to produce a collection exclusively for Gilt.com, which went on sale today and is priced between $79 to $129.
Entries to the scholarship were narrowed down by the CFDA, and then Dallison was chosen by a group of panelists that included Harper's Bazaar editor Glenda Bailey, Prabal Gurung, Alice & Olivia's Stacey Bendet, the CFDA, and Gilt Groupe.
Gilt Groupe's Jyothi Rao, general manager of women's, was on the selection panel. "The CFDA and Gilt have been partners from the beginning," she said. "They helped us bring a lot of the brands on board to Gilt. When this opportunity came about to co-sponsor a scholarship ... and to have the funds to be able to do this, is great. For everything that designers have done for us, this is a great opportunity for us to give back and support a young talent. It's really about highlighting Kieran and giving someone this young, and just graduating, the opportunity to produce a line that's accessible and affordable in front of five million people."
Rao also hopes the experience will help Dallison down the road. "I think it was a great learning process for him because he had to actually produce a line and go to the fittings and really think through a commercial line that he could put on a website," she said.
Dallison said the win is an exciting opporutnity. "It's beyond unreal," he said. "Luckily the CFDA and Gilt just happened to pick my name."
As for his thought process, Dallison said, "I drew a lot of inspiration from the girls that I saw walking around that were really well dressed, that I found particularly inspiring."
Dallison already has internships at Mary-Kate and Ashley Olsen's The Row and Prabal Gurung under his belt. "The Row creates such perfect clothes. The craftsmanship is unreal," he said. "Prabal has the ability to put on a really good show. Both are aspects that are so important to a designer."
The designer Dallison admires most is Belgium's Dries van Noten. "He's got such an incredible eye for color," Dallison said. "If I could take even a part of that I would be really pleased with myself."
Just because Dallison is winning early accolades doesn't mean he's immune to the difficult economy. He says his next step is finding a job.
"Just because I have clothes coming out doesn't mean I am not in the same boat as everybody else," he said. "It's pretty tough across the board and it's tough in fashion right now … but hopefully this will ease that process."