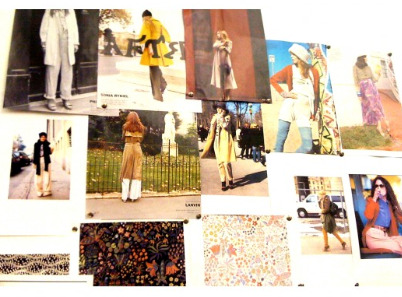 Given the conceptual, creative crush that is New York Fashion Week, it's understandable to walk away with a little trend indigestion.

This season, we thought to approach a few of our favorite retailers for their take on the runway goings-on. Lucky for us, Les Nouvelles co-founders Kathryn Hobbs and Molly Raney were happy to share what they saw, what they loved, and what predictions they're eyeing for 2011.
Thread NY: What designers do you see that you predict will be great retail labels come spring?
LN: Alice Ritter, Jeffrey Monteiro, Cacharel, Bensoni.
Thread NY: What pieces did you see that you suspect will be tweaked between now and then?
LN: We saw a lot of shear pieces go down the runway Some of these pieces (we learned in our appointments) will be lined or have added layers in production.

Thread NY: Anyone doing anything different or unexpected that re-excited you as buyers and online retailers?
LN: Rag and Bone -- the best basics that are not so basic. Every piece is quite special! This season, the color palette and prints were refreshing and new. We also loved Timo Weiland's collection - their 3D prints were so interesting and different. They will really pop online and that is always a plus for an online retailer.
Thread NY: What trend do you see fashion writers dying over that is great conceptually, but wouldn't work on online?
LN: Everyone still loves the easiness of minimalism whether it is in the design or the color palette. Online it is hard to translate black and white and those easy silhouettes. We find our customer wants to purchase pieces that are a bit more special.
Thread NY: Who have you met with that didn't show on a runway that you're keeping an eye out for?
LN: Lover was a favorite. The color palette was stunning!! Mixes of plums and deep reds as well as their signature lace in a few colorways were all lovely. Suno's prints and light breezy textured pieces were a nice surprise! We love this line and are definitely picking them up for spring. Their shoe collaboration with Loeffler Randall was sooo fun and cute, too. Another home run for an online retailer.