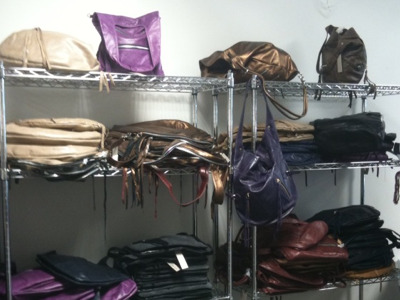 Perhaps because the masses swarmed to Manolo uptown today, the Foley & Corinna sample sale on Orchard Street was relatively quiet, despite low prices and a hearty selection.
Bags: Well organized piles of bags in colors and styles ranging from the risky (lilac leather, afghan clutches) to coveted classics (the Mid-City and giant Mofo Hobo in black, brown, neutrals, metallics and faux skins). The pricing structure was wonderfully simple - $150 for "main collection" bags and $95 for "clutch and summer bags" - with clear orange signage. There were a few bargain boxes with prices as low as $75 too.
Clothes: Ample amounts of pretty summer dresses were also on sale, including boho maxis, wedding-friendly cocktail frocks, sparkly tops, and skirts. The goods are split into two sections - the magical $40 yellow tagged pieces and the "regular" sale pieces whose prices fell between $55 and $110.
Vintage: The vintage section was also pretty stuffed with goodies for $25 a pop.
Details: Bring your credit cards, but leave the modesty at home and wear the proper sample sale undergarments (leggings and public-amenable bra) as the changing area is simply the back half of the gallery space, in plain view of the full glass storefront looking out to Orchard Street.
All in all, a pleasant experience as far as sample sales go, but get there sooner rather than later, by the time we left the room had begun to fill and bags were being snatched up quickly.