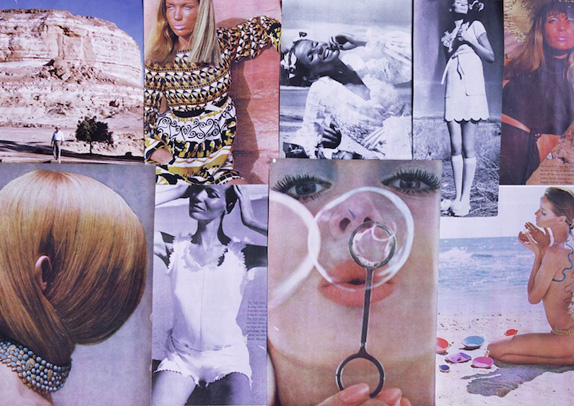 While Whit's fall collection is still characteristically upbeat, it's rooted in more dark-humoured references like Hitchcock-inspired raven prints and Miss Havisham silhouettes. Designer Whitney Pozgay plans to take a lighter tack for the coming seasion, however, blasting into spring with the sun-bleached sandscapes and bright flora of the desert.
With the collection in the final stages before its fashion week reveal in just a few weeks, Pozgay offered a sneak peek at the mood board in her studio, which was largely rooted in thoughts of home.
"I am from Arizona and went to college in Texas, and I really miss the southwest," says Pozgay. "I started designing Spring on a road trip through West Texas ... and became sort of fixated on the beauty of the desert. The brights of the collection are anchored with clay and stone colors"
Other collages include the colors Pozgay first spotted in pops of wildlife, and a focus on "that Verushka moment in the desert," the designer explains. "The overall theme is sort of desert mod with a focus on the bright colors of cactus flowers and border towns. I started pulling old Franco Rubartelli shoots from the late '60s , when he was shooting models -- often Verushka -- in the desert."
We can certainly see Pozgay's signature sense of vintage-inspired prettiness. "The mix of the geometric prints, dramatic gestural poses, and the beautiful landscape of the American Southwest created really stunning and compelling imagery."