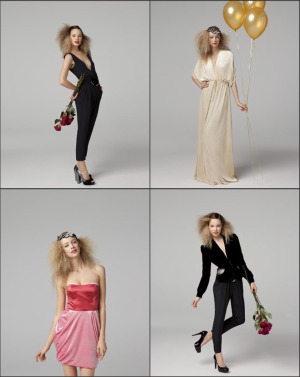 Pieces from Erin Fetherston's first collection for Juicy Couture are now available online.

Thanks to initial fans like Britney Spears and Paris Hilton, Juicy Couture enjoyed an initial heyday associated with dressed-down L.A. coffee runs and candy-colored velour. Fast-forward a few years to a brand sell to Liz Claiborne, initial owners Gela Nash-Taylor and Pamela Skaist-Levy abdicating daily operations and design, and Fetherston coming on board as consultant and guest collection designer.
Fetherston's holiday line of velour party dresses and sparkly accessories, while still quintessentially Juicy, is being lauded by critics and credited for the company's potential trip back into the realm of credible fashion.
The stuff is cute: velvet cocktail frocks with sweetheart necklines and dolman sleeves, blazers and draped-silk separates, plus girly-girl accessories like bedazzled stacked-heel pumps, quilted velvet pouches, ribbon jewelry, and fantastically over-the-top items including a kitten-ear headband and sequined skull cap.
There are a few items up for purchase now, with the rest available for pre-order. Fifth Avenue shop girls aren't positive about an update launch date, but early reports have the collection launching in-stores on November 15.