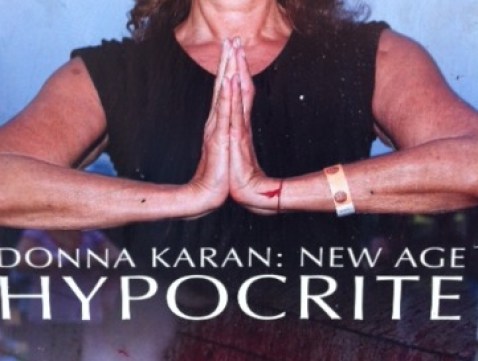 There's nothing warm and fuzzy about it—Donna Karan is getting pelted by PETA as the animal rights organization has launched an all-out attack on the designer for her recent use of rabbit fur.
Back in October, PETA held a protest outside Karan's Upper West Side home during a fundraiser she hosted honoring First Lady Michelle Obama (who herself has pledged not to wear fur), followed by a hijacking of Karan's DKNY Facebook page earlier last week, a coup that resulted in DK BUNNY BUTCHER displayed in boldface down the length of the page. The latest fire comes in the form of a poster campaign, featuring Donna Karan posing in what appears to be a focused, zen-like state, with the label "Donna Karan: New Age Hypocrite."
So why, during this particular season when fur seems to be an especially popular choice among designers, is PETA so fiercely focused on Karan? The organization claims that Donna Karan's choice of rabbit, specifically rabbit fur imported from China where there are hardly any animal rights protections, is the major issue. Additionally, she's being called out as a hypocrite for going back on her word not to include fur in her collections. "Back in 2009, Karan pledged not to use fur after we presented her with information and slideshows of rabbits being skinned alive," Ashley Byrne, a senior campaigner for PETA, told NYU News. "But now fur is appearing in her collections again."