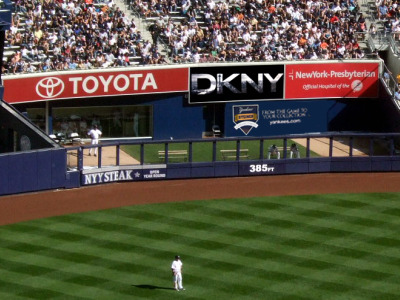 There may be no crying in baseball, but as of the April 13 home opener for the Yankees, there'll certainly be fashion, in the form of new sponsor DKNY's new right center field billboard and title sponsorship of the dugout lounge at Yankee Stadium.
It's quite an incredible feat to capture the attention of sports fans -- with clothing, no less -- during a game, but if anyone can do it, it's the one of city's patron brands, DKNY. In addition to a billboard, DKNY has taken over the entire dugout lounge, branding the heck out of the third baseline refuge for the premium seating ticketholders with promos and events, as well as a DKNY video loop.
The move makes DKNY the first fashion brand to get placement in Yankee stadium, so it will be interesting to see if any other fashion brands follow suit.