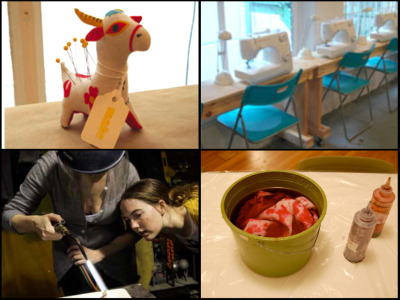 Whether you're inspired by Project Runway or have an imaginary dream dress that doesn't yet exist, there is a plethora of classes and workshops to learn how to make your own clothing and accessories right here in the city. Such is adult life, as we relish the chance to learn or refresh these skills, we wish we'd just paid attention in Home Ec.
Make Workshop Fashion Lab: Learn-to-Sew Series
Diana Rupp, the laid-back and cheery founder of make workshop and author of SEW: The Sew Everything Workshop makes it immediately clear this isn't your grandmother's sewing circle. The new-ish and wildly popular fashion lab she created in the Lower East Side studio is an intensive three-part series that meets for two hours weekly for seven weeks. For $500, you'll come away with a bag, skirt and dress, plus the comprehensive foundational skills required to learn to sew.
This membership-based design collective has two locations in Williamsburg, and has opened the doors to its mutli-use facility -- there are four photography studios, a wood & metal shop, digital media studio and office space -- for a wide range of interdisciplinary classes. The current jewelry offerings range from multi-session silversmithing and casting in pewter to one-time evening workshops in enameling and chain making, depending on your level of commitment and interest in the craft. Members get a discount, but all the prices are fairly reasonable.
Lena Corwin's Tie-Dye Workshop with Shabd Simon-Alexander
Tie-dye for summer is both timeless and on-trend, so try your hand at the sophisticated version of the method at Lena Corwin's Fort Greene studio. Taught by Corwin and fellow textile designer Shabd Simon-Alexander, the $150 class meets for two two-hour sessions in June. Students bring along whatever garments they wish to dye so go nuts.
Beginning Knitting and More at Purl Soho
Purl Soho just moved its cozy headquarters into a spacious new spot on Broome Street, making plenty of room to throw elbows and learn how to knit. In three sessions, the class promises beginner basics, knit-and-purl tutorial and the chops to finish off projects neatly. The soft jewel-box of a store is reason enough to pop in and hang out for a while.
Walk-in Crafts at Spacecraft Brooklyn
Williamsburg's Spacecraft is at once youthful and cool, stocking basic and obscure supplies up front and conducting all sorts of crafty experiments, classes and parties at the homey wooden table in the studio at back. Perfect for the creative dabbler, the shop offers Walk-in Crafts to DIY at nice prices, like bracelets and earrings for $15, canvas totes and onesies for $25 and tees for $35 (not to mention all sorts of clay-wax-paint projects).