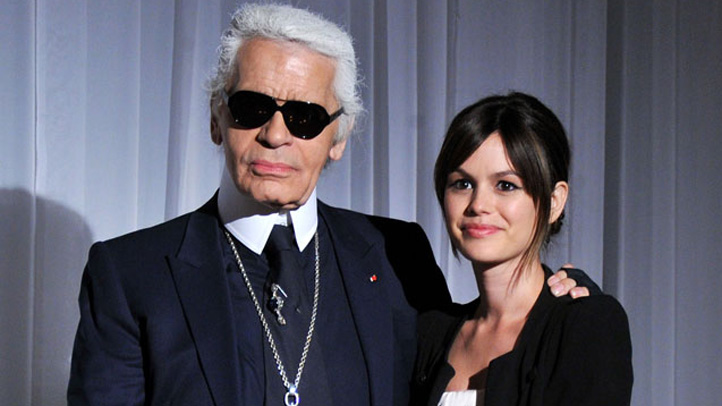 Last night Magnum ice cream celebrated its U.S. debut with a fête and the premiere of three short films coinciding with the Tribeca Film Festival, directed by Karl Lagerfeld and starring Rachel Bilson, centered (of course) around its ice cream bar. In one, Bilson is a model, in another, an art student, and in the last, she is a prima ballerina -- and in each, Bilson salivates over Magnum.
After a brief turn on the red carpet, Lagerfeld made his way to the VIP area to sit alongside Anna Wintour (wearing Chanel, naturally), accompanied by at least a twenty-person entourage including Stephen Gan and Baptiste Giabiconi (who stars alongside Bilson in the short films).
If there was a doubt as to who the star of the evening was, Jane Rosenthal -- who co-founded the Tribeca Film Festival -- put it quit succintly in her description of Lagerfeld: "I was so glad to just shake his hand. He is the rock star of the festival this year."
Crystal Renn, who recently took a turn starring in a print campaign for Chanel, echoed Rosenthal's sentiments: "It has been a dream of mine forever to work with him. It was one of the proudest moments of my life."
The other star of the evening, of course, was a woman who didn't even attend and is currently over 3,000 miles away -- Kate Middleton. At fashion events these days, talk usually turns to a guessing game as to what Middleton is going to wear for the big day. Christian Siriano attests that he would like to see Middleton don something "as relaxed and effortless as she is."
Robert Tagliapietra, one half of the design duo of Costello Tagliapietra said Middleton "dresses for herself and doesn't follow trends" -- clearly a compliment to the budding style icon.
Lagerfeld himself even weighed in on Middleton to the press line saying, "She is a lovely person with a beautiful body."
Once 'Middleton Mania' dies down following the royal wedding fashion discourse will feel free to return to talk over who is taking over for John Galliano at Dior. When asking Olivier Theyskens about the rumor that he is in the running, the current Theory Creative Director said, "I don't want to talk about that." Read into that as you will.