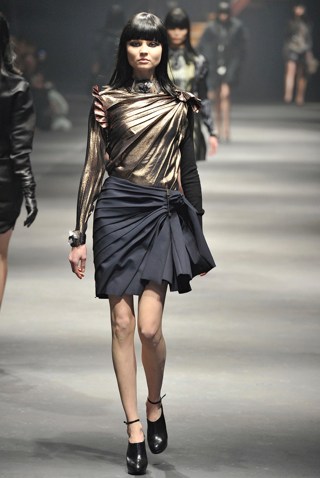 After several days of rampant rumors and speculations over H&M's mysterious next designer collaboration—which had everyone guessing at various big-fashion names such as Carolina Herrera, Bottega Veneta, and Alber Elbaz of Lanvin—it's been confirmed. Today WWD reports that the Swedish fast fashion chain will collaborate with Lanvin for a one-time holiday collection, scheduled to hit 200 H&M stores on November 23.
Clearly H&M couldn't keep the collaboration a secret much longer. Originally, a pair of viral videos it released earlier this week indicated that fans would have to wait until September 9 for the unveiling of further details, however the rash of attention given to the secretive collaboration may have prompted the retailer to spill the news sooner than expected.
While little else has been said or shown with regards to the collection, which will be available for preview on November 2 via video on H&M's website, shoppers can expect styles for both women and men, and nothing short of Lanvin's signature elegant aesthetic: "I have said in the past that I would never do a mass-market collection," Lanvin's creative director Alber Elbaz said in a statement, "but what intrigued me was the idea of H&M going luxury rather than Lanvin going public."
No word yet on price points, but In this case, "fast-fashion" may refer more aptly to how quickly the clothes fly off the racks.