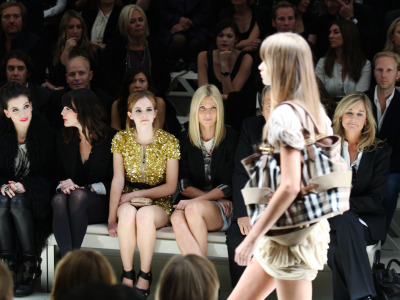 Fashion seems to be taking a welcome cue from the Jetsons,with Burberry announcing plans to stream its Fall 2010 show live in 3D to a global network of Christopher Bailey-designed screening spaces in five cities.
The Burberry Fall 2010 show being held at Chelsea College of Art & Design in London on February 23 will be simultaneously broadcast to live audiences in 3D glasses in New York, LA, Paris, Dubai and Tokyo. The New York show will air at Skylight Studios, in Paris at a Colette-hosted event at L l'ecole des Beaux Arts, in Dubai at The Address, in Tokyo at a "Burberry Night" at a yet-to-be-identified club and in Los Angeles at Milk Studios. In addition to the futuristic runway, viewers will get a behind-the-scenes glimpse of backstage excitement before the show comes on.
At the same time, Burberry will show in 2D at live.burberry.com while those at home can comment in real-time to Twitter and Facebook. We've always gotten giddy like children when it comes to groovy fashion stuff, but this certainly takes the cake.