Milan's recently-wrapped Fashion Week was a rollicking display of splashy color, playful proportions, and clean silhouettes. Here are some of our favorite offerings from the runways.
Versace
Donatella Versace's spring collection muscled its way out of the legions of gentle femininity to broadcast a fierce sex appeal, seen in her collection's sharp lines—but underscored by plenty of skin, of course--and saturated with bursts of hot orange and turquoise. We can't wait to see January Jones poured into one of the structural, second-skin gowns come awards season next year (she certainly owes it to the house for holding the show up by nearly an hour).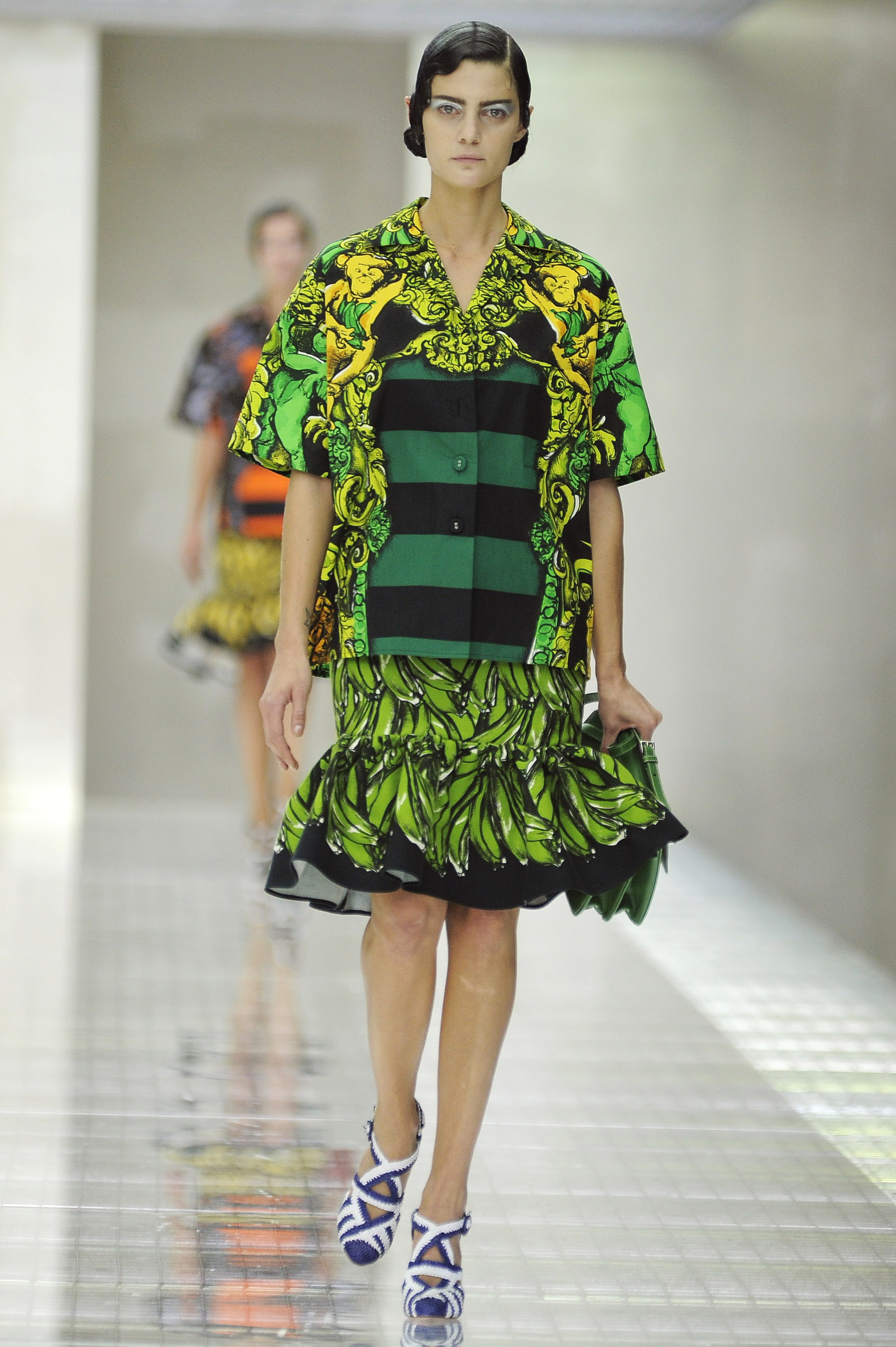 If you known only one thing about the goings-on in Milan, its probably that Prada threw down a rainbow-bright fashion fiesta, complete with banana-chomping monkeys. The seemingly contradictory theme of minimalist baroque played out handsomely on the runway, both critically and commercially. Belted dresses for the daytime cheekily evoked the shapes of origami without any hint of rigidity, while striped flouncy skirts and sophisticated shifts and skirt-suit combos managed to combine luxury and fun-loving femininity in the same look.
Gucci
Creative director Frida Giannini took to color-blocking with bold jewel tones and glamour-infused crayon colors for spring 2011. Subdued neutrals and black were richly spun into tassel, fringe and brocade silk and leather, giving off a vibe of billionaire heiress warrior--all power and posh. Editors everywhere seem to agree it's a rousing, complementary follow-up to the streamlined autumn collection at present.
There's something so consistently pleasing, yet still completely new about every Jil Sander collection, and spring 2011's clean brilliance upheld the tradition. White t-shirts and ball-gown skirts in solid, preppy candy colors opened a show that seemed to get better with each look. Creative designer Raf Simons has the ability to execute exciting new proportions in a way that's still tightly-controlled and entirely wearable. The cheeky take on plastic grocery bag satchels and overall use of bold, graphic stripes made this collection one of our favorites.
Causing its own round of delighted sighs were the 42 confections Tomas Maier masterminded for next season. Dresses came down the runway practically dripping—their lines were so fluid—in inky black and soft neutral tones. Meanwhile, boyish tailoring on pantsuits and rompers offered up form-flattering silhouettes without being too structured. Bottega Veneta's luxury is perhaps best defined by its ability to impress without looking at all intentional. Once again, Maier and company executed this notion without breaking a sweat.