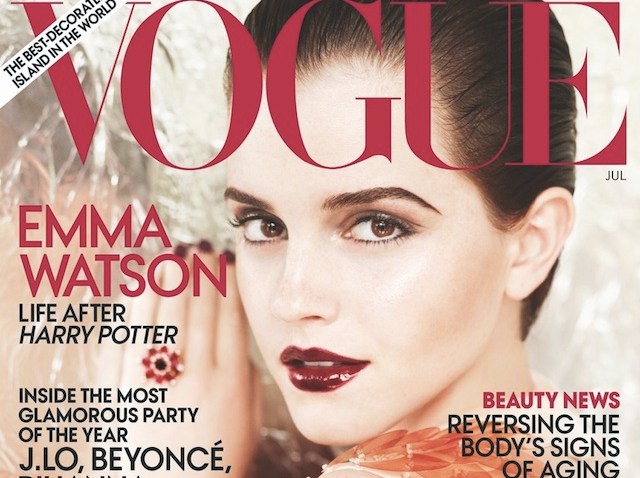 At first glance, Emma Watson bears an uncanny to a Robert Palmer girl on the July cover of Vogue, straight from the backup line of the singer's act.
In fact, the 21-year-old Harry Potter superstar has been styled to the max in Prada and Ben-Amun jewelry, with strong brows, bold lips and her pixie cut slicked-back for striking effect that plays up the season's glam '70s and '80s influences.
In her Vogue interview, Watson takes the same thoughtful approach to high fashion that she's embraced since she was old enough to wear adult clothing. Besides lending her likeness to the Burberry campaign, Watson has picked off-the-mainstream-radar designers like Erdem Moralioglu and Hakaan Yildirim with purpose. She tells Vogue: "I thought, If people are going to write about what I'm wearing, then I would wear young British designers who need the publicity."
And when it comes to her own collaboration with green label People Tree, Watson is certainly not just another "celebrity designer", telling Vogue she "practically cried" when Alberta Ferretti called her for a capsule called Pure Threads, which bowed in March.