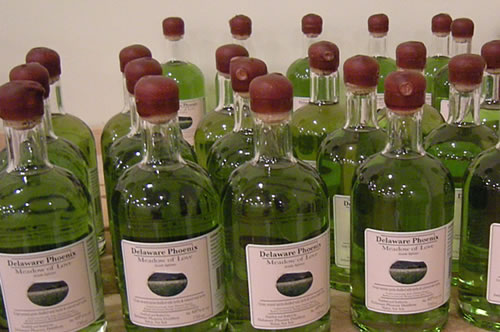 Since absinthe became legal in the U.S. in 2007, 13 distilleries have sprung up across the continent. And now, New York has an absinthe it can call its very own and another on the way. And the timing couldn't be better, because, as most everyone knows real holiday cheer (and the ability to deal with one's family and loved ones) comes in a bottle.

Cheryl Lins, owner and sole-proprietor of Delaware Phoenix Distillery in Walton, New York, told The New York Times that she began experimenting with the Green Fairy after reading a New Yorker article about the controversial spirit. It soon became an obsession and she now makes about 200 bottles a month from her home in the Western Catskills and delivers it twice a month to three stores in New York City: UVA in Williamsburg, Astor Place and Chambers Street Wines.

She named it Walton Waters "after the green reflection from the trees on the waters of the Delaware."

Clearly, she likes where she lives, so it is only suiting that she should use all local, organic herbs and water from Catskills wells. Her brew includes fennel, anise, hyssop, lemon balm, lemon thyme and of course, wormwood stalks. For her less traditional and stronger-tasting Meadow of Love blend, she also includes violet.

The Wormwood Society, the definitive source for all things absinthe (they report that at the turn of the century the people of France consumed over thirty-six million liters of absinthe a year), gave Walter Waters 4.5 stars out of 5.

Edward III absinthe is also made in New York and will be available imminently, according to its Twitter feed.

While absinthe is most traditionally served by diluting it with cold spring water and a sugar cube, at 130 proof, it's also great in a cocktail. May we recommend the Waldorf, a high-test twist on the traditional Manhattan from the 1933 Waldorf-Astoria Bar Book (think of it as your Christmas cocktail -- and may visions of sugar plums and green fairies dance in your head):
1 dash of Manhattan Bitters
1/3 whiskey
1/3 absinthe
1/3 Italian sweet vermouth
Add to iced tumbler, shake vigorously and strain into a cocktail glass
In the spirit of using small-batch, local distilleries, make it with the whiskey from Tuthilltown Distillery (also available at UVA).
Copyright FREEL - NBC Local Media