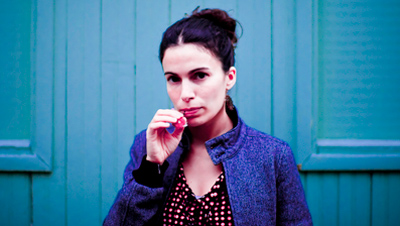 You may not immediately twig to her name, but you've definitely heard Yael Naim's music: After Steve Jobs hand-picked her plucky tune "New Soul" as the soundtrack to Apple's MacBook Air commercial, it was downloaded a staggering 1.5 million times from iTunes in the U.S. alone.

That put Naim on the map, and a self-titled album that spanned genres (pop, folk, jazz, North African influences, you name it) and languages (Naim sings in French, English and Hebrew) kept her there.
Her new album She Was a Boy, birthed in a Paris studio with collaborator and percussionist David Donatien, comes out here May 10; it's already landed her a Victoire de la Musique (a..k.a. a French Grammy) at home, and features musicians who've played with the likes of Regina Spektor and Rufus Wainwright. (Give a listen to the first single, "Come Home," below.) On the eve of the disc's release, Naim and Donatien will perform at (Le) Poisson Rouge on Monday.
Name: Yael Naim
Age: 33
Lives in: Paris
Occupation: Musician

Your current life in a nutshell:
In the middle of a European tour and releasing the album in different countries. Enjoying the sun coming back.

What time do you wake up?
Too late (around 11am).

First record you ever bought?
An Elvis Presley record, when I was 10 years old.

First real job?
Singing in a jazz club in Israel.

Your first NYC gig: Discuss.
I think it was at the Bowery Ballroom. It was incredible because it was sold out, and to see a real audience coming to see us in this mythical venue, in this mythical city, was just mind-blowing!

Where do you go to unplug?
Any forest will work, or my music studio.

Top three songs in your iPod rotation?
"Klezmer Madness," David Krakauer & Socalled
"Bayi Bayi Man Moracha," [Bollywood icon] Lata Mangeshkar
Stormy Weather, Art Tatum

What do you splurge on?
Massages!

To when do you point your time machine?
I'd be curious to see myself around one year old.

Complete this sentence: In a previous life, I was a bird (I wish).

Best meal you've ever had in NYC?
Very stereotypical and maybe silly but: A proper hot dog, off the street.

What's your drink?
Fresh strawberry and banana smoothie (without milk).

First childhood memory?
Moving to Israel when I was 4.

What's your pre-show ritual?
An hourlong warm-up (body and voice), and right before we go on stage a HUGE hug with all the team.

Most treasured possession?
My hard-drive (with all my songs on it).

Your favorite thing about yourself?
My freedom to sing, maybe?

Who are your heroes?
Gandhi, my parents and [collaborator] David Donatien. I admire his skill of always bringing the best out of people.

What scares you?
Fear itself. It closes people up.

Fill in the blank: I'll know I've really made it when... I know I've already made it, because I don't depend on expectations anymore.

Tweet your obit (140 characters or less):
Free at last. ;)

Yael Naim & David Donatien with special guest Anath play (le) Poisson Rouge Monday May 9 at 7PM.