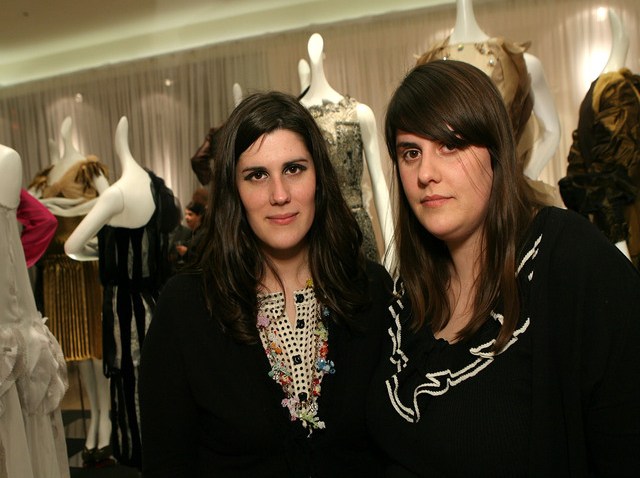 In this week's issue of The New Yorker, writer Amanda Fortini muses on the eccentricities and brilliance of sisters Laura and Kate Mulleavy, the duo behind Rodarte, in a story called "Twisted Sisters."
In an illuminating profile, the Mulleavy sisters seem to embody the very anomalies presented by their garments. Just like a Rodarte dress is not exactly, or just, a dress, these women are not exactly what you'd just go ahead and call "fashion designers". Between horror film fixations and the subtle intertwining of medical lore into quasi-couture constructed clothing and the pair's uncanny penchant for painstaking work and telepathic inspiration, not to mention their choice of headquarters (Pasadena), Rodarte goes beyond the extraordinary.
Despite the tiny scale of the Rodarte line, in the nearly five years since they were catapulted onto the cover of Women's Wear Daily the fashion world has, for the most part, become enchanted by the hypnotic knits and stunning construction of the clothing. The argument can be made, in the great debate over whether Rodarte produces art or fashion, or whether there's a difference, that since a good portion of the label's most voracious admirers cannot, and may never, afford just one, non-Target piece of Rodarte. The argument that their work is more art than fashion is compounded by certain revelations in the piece -- namely, that the duo are disappointed whenever they make something "pretty" and apparently still have a mostly self-taught sense of how to construct a garment.
What Fontini helps reinforce in her profile, as well, was the notion that there are a select few who love Rodarte, and to the large group of others, there's a total incomprehension and maybe even fear and disgust ("what the heck is that?). As for us, we're in the former camp.