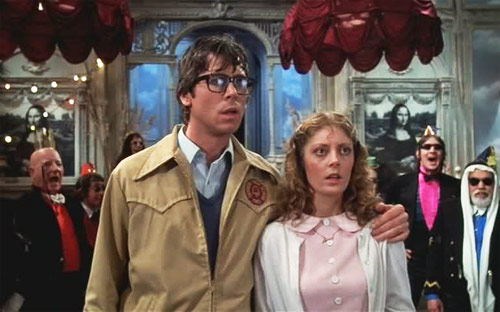 It's all Susan Sarandon, all the time starting Thursday at the Brooklyn Academy of Music's BAMcinématek as they kick off a mini-retrospective of the actress/activist/ping-pong magnate's film career, The Susan Sarandon Picture Show.
The program includes 13 films in all, screening through Sunday—from the sultry pairing with Kevin Costner (remember when he was considered sex on legs?) in Bull Durham to, well, another sultry pairing in lesbian vampire movie The Hunger, a.k.a. the movie that will forever link The Flower Duet from Delibes' opera Lakmé with Catherine Deneuve and a certain drenched blouse. (Sunday's screenings include a post-film conversation with Sarandon herself onstage at the BAM Opera House, moderated by Bob Balaban at 7PM.)
We'd be remiss if we didn't point you directly to Friday's almost-midnight showing of (what else?) The Rocky Horror Picture Show, the raunchy, lipstick-smeared riff on the Frankenstein story that sees a tranny Tim Curry crafting the perfect buff, blond male. A commercial flop on release, Rocky Horror acquired its cult status later, after antic-filled midnight showings cropped up the world over.
The 1975 flick was Sarandon's singing debut. Before she made the movie, she "couldn't even hum out loud without getting hives," Sarandon's told the Guardian, and assumed that when the time came to record her songs, the movie's producers would supply "the necessary drugs or liquor." (They didn't.)
It goes without saying that you should dig out your fishnets for this one and expect to have a very interactive singalong of a time—no sanitizing for prime time here.
BAMcinématek presents The Rocky Horror Picture Show, part of the Susan Sarandon Picture Show retrospective, Friday, February 11, 11:30PM. BAM Rose Cinemas, 30 Lafayette Avenu; (718) 636-4100. Tickets: $12, available at bam.org.