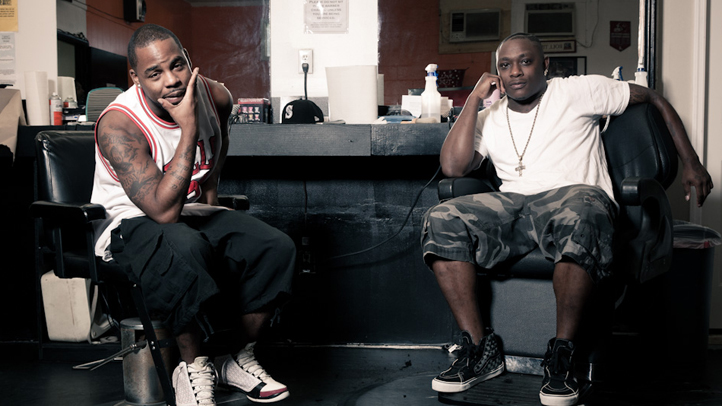 Calling a group "hardworking" can carry an undercurrent of "this is music you should listen to because it was made by salt-of-the-earth-types with something to say, but you shouldn't expect it to be any fun." Fortunately, only the first part of that statement applies to G-Side.
The Huntsville, Ala. duo of ST 2 Lettaz and Yung Clova has made five albums in five years, each one chronicling lives spent on a constant grind, doing their best to both escape their city and honor its resilient spirit.

For iSLAND, their second album of 2011, G-Side focused on making their most upbeat, energetic record yet, so expect things to get extra rowdy when they roll in to Glasslands tonight with Cities Aviv and Mr. MuthafXXXXX' eXquire. Nonstop recently talked with Clova about iSLAND and G-Side's infamously rigorous tour schedule.
Nonstop Sound: So how's your year been?
Yung Clova: "The year's been great. A lot of big things been happening."
NS: You guys are known for your tireless touring, and for playing all over the world. What is the most recent place you've played that you never expected you would set foot in? What was it like?
YC: "Never thought we would be in Europe again. It was fun. I love being overseas."
NS: This is one of your first actual tours, instead of one-off gigs. Any good tour stories so far?
And where do you want to hit that you haven't yet?
YC: "So far nothing major has happened -- it's just our second day. We just in shock that we on tour. I want to hit Miami, Vegas, Paris, Italy and London."
NS: Speaking of touring, you're playing New York, which has high standards when it comes to hip-hop. What are your shows here like? Is it tougher to win over the crowds?
YC: "New York City always shows us love. Shots out to the big homies on BallersEve Radio. They were a huge help with building our fan base in New York."
NS: You guys have been known to rap over some particularly unique samples: classical piano compositions, orchestra strings, salsa trumpets, Enya and even the "Dune" soundtrack. Is that the result of Block Beataz and your other producers pushing you guys out of your comfort zone, or are you challenging them to give you something you haven't heard before?
YC: "Our producers are weirdos. Really big music freaks. They listen to all kinds of music. From kiddie music to hard-core. From classical jazz to old school funk. They have been cultivating us and developing us to be the musicians we are today."
NS: You've released two albums this year, The One and iSLAND. How do the two relate to each other? Are they two parts of a whole, or were you trying something different on iSLAND?
YC: "We were really trying something different on the iSLAND. We noticed that our shows don't have a lot of up-tempo tracks. So we made iSLAND a more high energy album. It really sounds and looks better when we perform it."
NS: Instead of going the major label route, you've put iSLAND up for sale via BandCamp. How is that working out so far?
YC: "Bandcamp is working great! We just bought our first tour van. I think that was a blessing. Bandcamp has really been a big help with our success and hope to continue working with them."
NS: You've talked about putting Huntsville on the map. What is it about your town that you think is special and led to so much great music from you and your friends?
YC: "Well I'm all about putting Athens, Ala. on the map. That's where I'm from. Huntsville does have a dope music scene right now. I feel like if we can put our city on, then we can save our community."