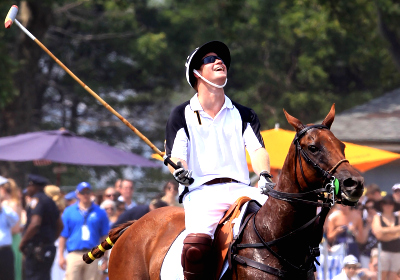 "Social event of the year" is a phrase that people like to throw around a lot in New York, but the Veuve Clicquot Polo Classic on Governor's Island might actually be a contender.

Prince Harry, England's third in line for the crown, was eager to show his polo-playing prowess at the charity event and vied for bragging rights against Argentine player Nacho Figueras at the star-studded event Sunday.

Before the match, the 25-year-old Prince spoke to the impeccably dressed crowd in the VIP tent and those sitting on the grass adjacent to the playing field. The U.S., he said, "has always protected the downtrodden, the poorest, those most in need of held in the world."

He also quipped that the heat was "a welcome relief after the snow and ice of Lesotho, where I was last week."

The Prince, who played for Black Rock, put up a decent fight for the title but took a spill during the match. He got up without injury but went on to lose against Figueras in overtime.

In keeping with previous years the champagne sponsored-soiree brought in a good share of bold-faced names like Mayor Michael Bloomberg, his daughter Georgina Bloomberg, Alexis Biedel, Andre Balazs, Byrdie Bell, Ivanka Trump, Josh Lucas, Julianna Margulies, Susan Sarandon, Julie Henderson, Mary J. Blige, Rachel Roy, Rob Thomas, Russell Simmons, Val Kilmer and many more. A great showing though no impromptu Madonna appearance like last year.

"I would love to see 20,000 people out there today," Figueras said on the Veuve Clicquot-themed yellow carpet. "I don't care who they're cheering for as long as they are excited."

Prince Harry's team captain, Nick Roldan, said he thinks he knows why the Prince was at a disadvantage during the match: lack of team practice.

"I actually haven't even seen Harry in about a year," Nick said wearing his prize Audemars Piguet watch from the last contest. "I think we're just going to go out there an improve it. But I have a very good feeling."

Proceeds from the event went to American Friends of Sentebale, a charity set up by Harry along with Prince Seeiso of Lesotho to benefit the many of Lesotho children who are AIDS orphans. The cause is one that Harry's late mother Princess Diana supported vigorously during her life.