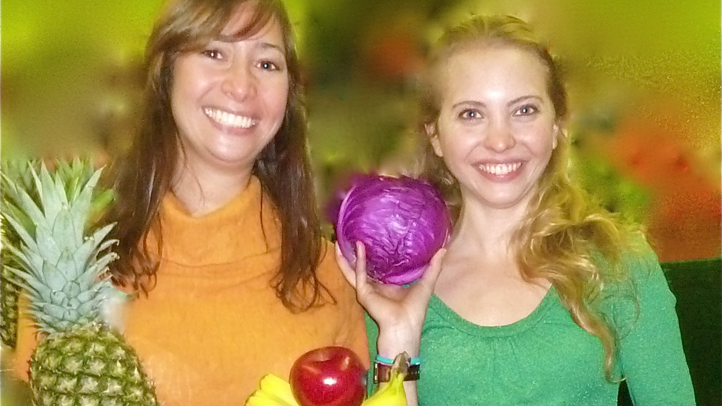 The first New York City first Vegetarian Food Festival is happening this weekend, and in addition to the speakers and live music scheduled for the event, you can bet there will be tons of samples flowing across the floor. Best of all? It's free.
We caught up with the event's founders, Sarah Gross and Nira Paliwoda, to learn more about how it all came together and what to expect at the festival. We also got acquainted with the ladies, who tell us how their own diet lifestyles evolved.
How did the Vegetarian Food Festival come about?

Sarah: The NYCVFF came into being last summer as I approached my friend Nira, an event planner by trade, with the idea. As an active member in the vegan community, the common chatter amongst NYC vegans was that our city desperately needed a real vegetarian food festival. Other cities have been successfully mounting, and growing, veg food fests year after year. It was just such an obvious hole to fill in the NYC market, which has every type of food festival imaginable -- the idea just needed someone to get it going. Now, we're already at work on 2012, the NYCVFF is building its momentum and is on track to become an annual event for years to come!
Nira: Sarah and I have been working round the clock organizing this festival but we couldn't do it without the help of some amazing volunteers and sponsors. We are very grateful for the support and assistance in making this event happen.
Okay -- so who are you ladies and what do you do?
Sarah: I founded Rescue Chocolate about a year ago. It's a chocolate company donating all net profits to animal rescue groups with every flavor highlighting a different rescue issue. I'm a former professional ballet dancer and Pilates teacher.

Nira: The day after I graduated law school I founded Two Shes Productions, LLC, an event planning, artist management and consulting company with an emphasis on the entertainment industry. And this year Sarah and I founded U.S. Veg Corp which is a company dedicated to planning fun events focused on plant-based nutrition, wellness lifestyles and kindness to animals. We are proud to say that the NYC Vegetarian Food Festival is our launch event!
When did you personally become vegan or vegetarian, and what prompted the decision?
Sarah: I become vegetarian when I was 10, when I finally connected my love for animals with what was on my plate. A few years later I was reading a book on how to be a healthy vegetarian (something like the The Teenager's Guide to Vegetarianism), and along the way I learned about factory farming.
After that I decided to eat vegan one day a week, then two, then three -- then it just became natural and easy. I already had all the right foods in my home and enjoyed eating them so it was easy to make the leap at 14. Watching factory farming footage, I feel like going vegan is the LEAST I can do in light of the widespread horrors in using animals in the food industry.

Nira: I'm an aspiring vegan but actually fall under the category of flexitarian. I was raised in a family of carnivores but tended to naturally lean more towards vegetarian foods because of their nutritional aspect and how they made me feel overall.
I too am against factory farming but I have not made the leap to veganism just yet, although I am taking steps in altering my diet as I get more educated on the lifestyle and resources available in the community. I will be one of those people at the NYC Vegetarian Food Festival that is interested about learning how to transition into a vegan diet and excited to sample the foods that I've been curious about but never tried before.
For the veg-ignorant among us, could you kindly explain the differences between "vegan," "vegetarian," "flexitarian," and "locavore"?
Vegans do not eat or use any products that come from an animal. These include dairy, eggs, leather, wool, and silk. The word vegetarian normally refers to a person who eats eggs and dairy, but no meat, fish, or poultry. Flexitarians eat vegetarian meals interspersed with omnivorous ones. Locavores are dedicated to eating food that hasn't traveled far to arrive on their plates.
Do you think there's been an increasing awareness of/movement toward vegetarianism in New York City?
There is! We keep seeing it in more and more news pieces how omnivore restaurants are doing meat-free Mondays and have entire vegetarian menus. The city also continues to add to its all-vegan restaurant list. A quick browse on supervegan.com confirms that eating out in NYC as a vegetarian is easy and becoming even better! New Yorkers are becoming more and more interested in and aware about their food choices.
What are your favorite vegan shops and restaurants around the city?
This is the hardest question! It depends on the day and the mood. There are so many superb restaurants. A few favorites: Candle 79, Cafe Blossom, Chennai Garden, Hangawi, 'snice. As far as shops, Life Thyme is hard to beat with its huge salad bar and all-vegan bakery!

How many vendors are you expecting at New York City Vegetarian Food Festival? What kind of stuff will they be serving up and selling? Any familiar names we might know in New York?

We are expecting over 70 vendors. They will be serving up things like coconut milk-based ice cream, Indonesian food, Colombian food, pickles, kombucha, chocolate, and more! We have several Brooklyn-based companies such as Peeled Snacks, Brooklyn Kombucha, and Rescue Chocolate. Vegans will go gaga to know that Liz Lovely cookies will be represented with a booth and the Chicago Soy Dairy will be bringing vegan marshmallows and cheese!
---
The New York City Vegetarian Food Festival takes place this Sunday, April 3, from 10 a.m. to 6 p.m., at the Altman Building (135 West 18th St., between 6th & 7th avenues). For the list of scheduled speakers and expected vendors, visit the NYCVFF website.