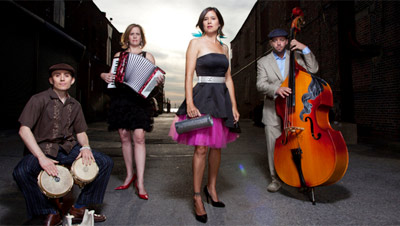 Even if you're familiar with Pistolera – hell, even if you own the Brooklyn outfit's first two albums – you'll probably have the giddy feeling of discovering a new band when their latest effort, El Desierto y la Ciudad (The Desert and the City), comes out July 12 (NPR is streaming it in full until then; take a listen here).
Mexican-American bandleader Sandra Velasquez (second from right) is still fond of the throwbacky sound of a good cumbia, but her vision has hit a whole new level, making the music seem modern (the catchy songwriting doesn't hurt either). And it's not everyday a band gets daring with an accordion.(Grab a free track, "La Despedida," over here.)
All in all, it's a pretty great soundtrack to this weekend's party on your rooftop (which will have to do until the band's CD release party July 29 at Drom). To add to that, we asked Windsor Terrace-ite Velasquez -- whose summer-in-NYC plans include "trying to find another empty secret beach now that the word is out about Fort Tilden" -- to run down her perfect summer playlist.
"Gun" by Gil Scott-Heron
All heart. Such soul with a message. His music is timeless.

"Everybody Loves the Sunshine" by Roy Ayers
No outdoor summer party is complete without this old-school jam.
"Dancing in the Moonlight" by King Harvest
People might be surprised to know that this is my favorite song in the whole world. Don't ask me why. It just makes me instantly happy.

"Makriadu" by Tcheka
He has one of those voices that carries the wisdom of centuries of experience. I listened to his music a lot when I was writing my own album in the California desert.

"Tudo Diferente" by Maria Gadú
I went to Brazil last year and came back with one of her CDs. Her talent is undeniable.
"Limit To Your Love" by James Blake (Feist cover)
A Brit playing his own brand of spooky, soulful R&B. It's hard to not ask, "Who is this?" when his song comes on the stereo.

"10 Minutos" by Ana Carolina
Brazilian songstress who will make you want to learn Portuguese.

"Deep Water" by Portishead
Not many bands can get away with a heavily programmed song followed by a song on a ukelele.

"Don't Play No Game That I Can't Win" by the Beastie Boys featuring Santigold
It's hard to have a summer party without someone inevitable hooking up their iPod to the stereo and playing some Beastie tracks. They make music for those of us that like to party in the summer.

"Casa Vacia" by Hello Seahorse
Testament that Mexico has more to offer us musically than traditional regional styles.

"Esclavo Y Amo" by The Echocentrics
The very cool side project from some of Austin's coolest musicians.

"Hey" by KING
One minute your friend is asking if you've ever heard of them. The next minute, everyone has and they're playing Summerstage.