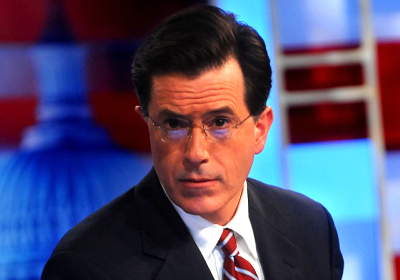 Stephen Colbert, along with a cadre of acclaimed authors and writers, honored the 1960 classic "To Kill a Mockingbird" last night in Manhattan -- but implored audience members not to document the event.
"I cannot read any part of the book aloud without crying," Colbert quipped before reading from Chapter 22 at Broadway's Symphony Space Wednesday night. "So please don't blog this!"
He added, "I was assigned this book as a reading assignment in eighth grade, so the first time I read it I was 23."
Other panelists on hand to celebrate the legacy left behind by Harper Lee's American classic on its 50th anniversary were best-selling novelist Kurt Andersen, author Libba Bray, Public Theater artistic director Oskar Eustis, scribe Jayne Anne Phillips and Mary McDonagh Murphy, who wrote "Scout, Atticus and Boo: A Celebration of Fifty years of To Kill a Mockingbird."
"The book is an indictment of racism without indicting the racists," said McDonagh Murphy, who just finished filming a movie set for release this summer that explores the impact of the book on the world.
The date also marked the 84th birthday of the books author, Harper Lee.