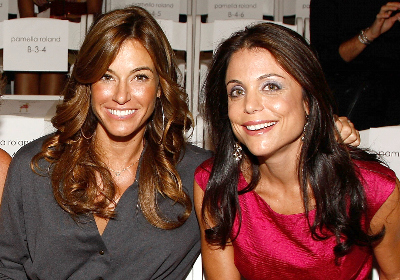 "Real Housewives of New York" starlet Kelly Bensimon defended castmate Bethenny Frankel's decision to leave the reality TV show -- calling the move by the new mom to divorce herself from the housewives "awesome."
"You make career moves, and I mean she had her time on 'Housewives,' and now she wants to enjoy her family and her show and that's awesome," Bensimon told Niteside while judging the Appleton Estate Reserve's Bartender's Challenge at Macao Trading Co. in Tribeca last night.
Bensimon, who was left off the guest list for Frankel's May wedding, has clashed with the bestselling author in what made for some of the most heated "Housewives" moments of last season when simmering animosity between the two boiled over.
"We're not really friends off the show," Bensimon told Niteside in April. "We're cast. I'm paid. It's my job."
Frankel, who launched a successful spinoff show "Bethenny Getting Married," confirmed to Us Weekly yesterday what she told Niteside earlier this summer: that she would not return to "Housewives."
"Given the current cast and the current circumstances I don't see any reason to return to 'Housewives,'" she told Niteside.
Bensimon, when pressed last night, declined to comment about what goes on in the show but said it's "a lot of fun."